Hundreds of taxis block central Prague in anti-Uber protest (VIDEO)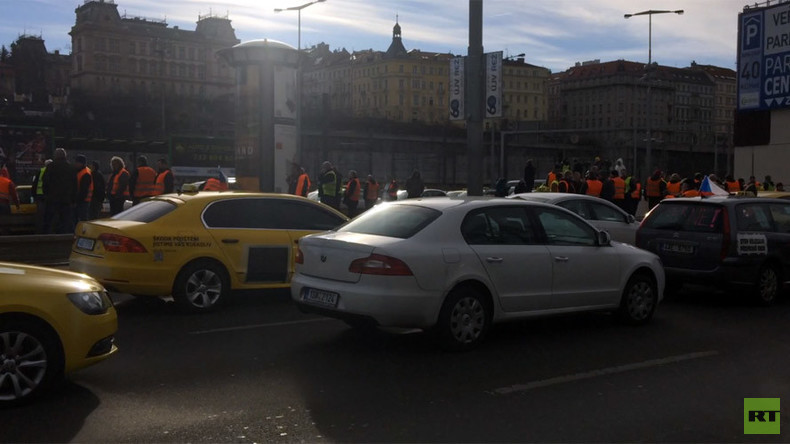 Hundreds of taxis blocked parts of a major road in downtown Prague near the Central Station during Monday morning's rush hour in protest of Uber and similar car-hailing apps, which they deem illegal.
Two lanes of a key road in Prague were blocked in both directions by protesting taxi drivers. Though one lane in each direction was left free to prevent a full halt in traffic, there were still heavy delays, as seen in RT videos streamed via the Ruptly Stringer app.
RT's new app enables anyone of legal age to join the ranks of citizen journalists and become a paid contributor. The Ruplty Stringer app is available to Android and iOS users worldwide.
READ MORE: Join the army of citizen journalists with next-generation Ruptly Stringer app
Videos from the scene show taxi drivers in orange and yellow vests standing by their cars, on which various slogans, such as "No to Uber" and "Stop Uber," have been painted.
"The main objective of this demonstration is to highlight the illegal business which has been dubbed an alternative to taxi services," the event's organizer – the Association of Concessionaires of Taxi Services (AKT) – said on its website, adding that such car-hailing services don't comply with the requirements that traditional car services have to.
The drivers have also been conducting a campaign urging the city to permit them to raise their prices. The maximum fee currently stands at 28 koruna (a little over $1) per kilometer.
Prague Mayor Adriana Krnacova has argued that the drivers have no reason to complain and that demonstrations would only lead to a disruption in traffic, local media reported.
According to the municipal figures, there are 2,000 active taxi providers operating in Prague with more than 4,600 registered vehicles and nearly 5,500 drivers, as cited by local media.
You can share this story on social media: