Hurts to watch: 70 carnival-goers injured in Italy's annual 'Battle of the Oranges' (PHOTOS, VIDEOS)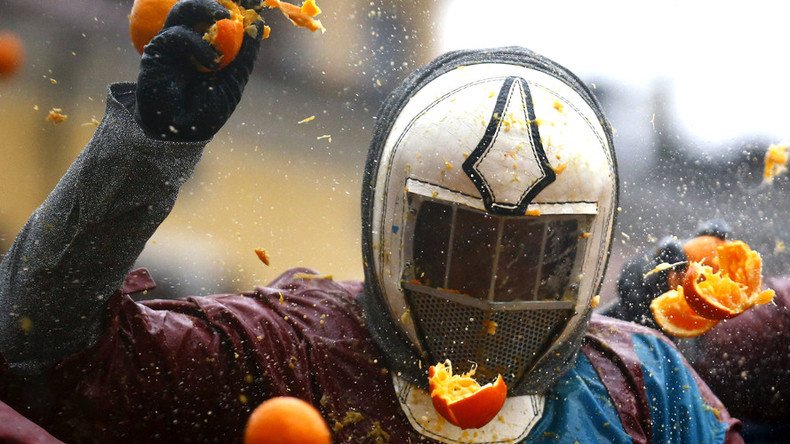 Nearly 70 of the thousands of revelers who came to a small town in northern Italy for a traditional fruit battle incurred citrus-induced concussions.
About 7,000 revelers visited the Italian town of Ivrea, which kicked off three days of annual carnival festivities with its traditional "Battle of the Oranges."
Dressed-up in medieval costumes, some of the participants apparently got a little carried away while pelting each other with the oranges that had been specially delivered for the occasion from Sicily.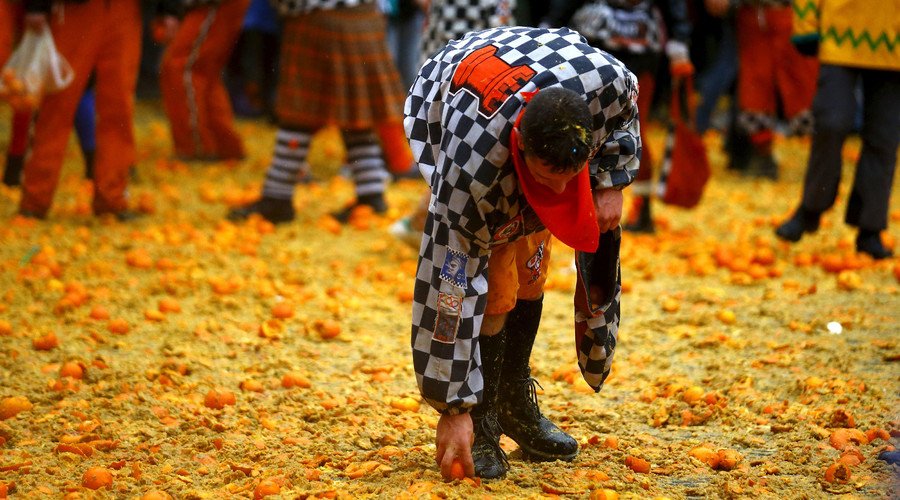 Some 70 people eventually dropped out of the citrus melee with concussions. An additional 28 proved unable deal with the local mulled wine, including a 12-year-old boy who fell into a coma after consuming too much alcohol, local newspaper La Stampa reported.
The tradition is deeply rooted in the distant past. It is believed to date back to a 12th century uprising against a local tyrant whose demands whipped a crowd of residents into a fury, resulting in his beheading at the hands of a young woman, according to the legend.
The city of Ivrea once marked the occasion with confetti and harmless beans, but in the 19th century the celebration escalated, with the holiday turning into a full-scale orange free-for-all. The tradition was revived when young women started throwing citrus fruit from their balconies to attract the attention of the town's eligible men.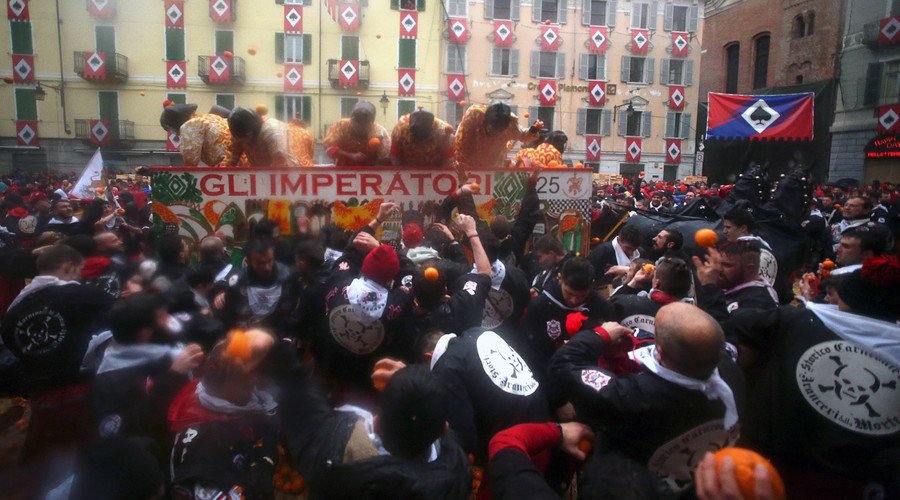 Looking on the bright side, the number of casualties this year is about half that of 2015, when it reached 142, La Stampa noted.
A ticket allowing you to get dressed as a medieval warrior and hurl weighty fruit at other people costs €8 (nearly $9). As many as 7,000 tickets were sold, organizers reported, adding that more than 16,000 people had watched the juiced-up frenzy from the sidelines.
You can share this story on social media: