'Far-left' activists smash luxury cars in Berlin police protest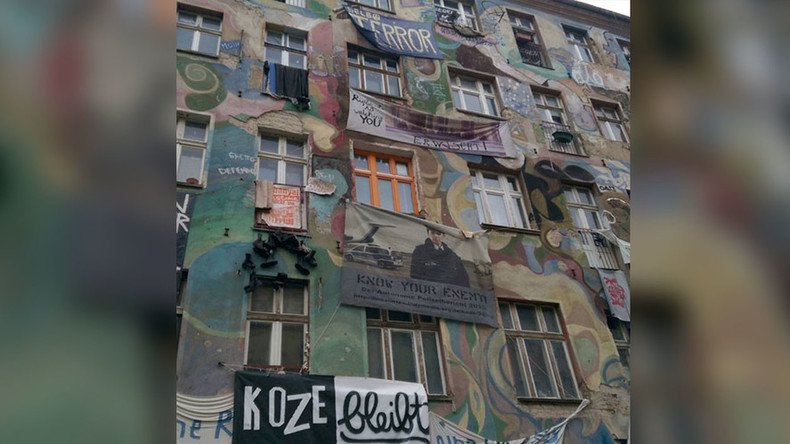 Dozens of activists claiming to be from Social Democratic People's Bicycle Commando Germany trashed or torched nearly 50 luxury cars and storefronts in Berlin this weekend in response to growing gentrification and living costs.
An online statement posted on the community website IndyMedia Sunday suggests there could be more attacks, costing €1 million worth of damage per police raid against squats and other "projects" run by anti-capitalist community organizers.
"With the burning up of excessive luxury cars, the destruction of a surveillance camera, and the smashing in of display windows, we refer to the call of autonomous groups on January 21 to cause €1 million of damage for any attack on projects in Berlin," an unidentified author writing under the pen name 'Command Klaus Jürgen Rattay' said on Indymedia.
< 1 K M A N A R C H I E >//#Berlin - #Friedrichshain - #R94 & #M99 - #Antifa - #Freiräume//"Rebellische...

Posted by LANB on Sunday, February 7, 2016
The statement refers to a raid on Rigaer Straße in which 500 police stormed a squat following an alleged attack on an officer.
The building, Rigaer Straße 94, was found to contain a large number of dangerous objects, according to police, and its occupiers have been labeled "far-left" by "center-right" Interior Minister Frank Henkel.
That label has since been echoed by most mainstream news reports about the incident with the Los Angeles Times calling the luxury car attackers a "gang" of "extremists".
Critics of the squat raid, including Green Party member of parliament Canan Bayram, said it was an overreaction and questioned the police's motives for such a large operation.
"Imagine that something like this happened in Kollwitzplatz (a wealthy Berlin area) and hours later the police do a 'house search'," independent city parliament member Christopher Lauer tweeted.
Welche konkreten Tatsachen sprechen dafür, dass die vier Personen, die den Polizisten angriffen auch in dem Haus wohnen?

— Christopher Lauer (@Schmidtlepp) January 13, 2016
The Friedrichshain area in Berlin has become a stronghold for squatters with some of the buildings occupied since the fall of the Berlin wall in 1989.
Minister Henkel declared the area a "danger zone" in November.
Anger over police pressure in the area was expressed during a demonstration Saturday with the title, "Rebellious Neighbors, Neighborhoods with Solidarity, City from Below".
Police have not yet responded to the threat made against them.
Not since the Red Army Faction aka Baader-Meinhof Group has Germany seen such a strong reaction to police repression and economic disparity.
The left-wing militant group kidnapped bankers, business executives, and conservative politicians in an effort to break the remaining stranglehold of Nazism in Germany society.
"World War II was only twenty years earlier. Those in charge of the police, the schools, the government — they were the same people who'd been in charge under Nazism. The chancellor, Kurt Georg Kiesinger, had been a Nazi. People started discussing this only in the 60's. We were the first generation since the war, and we were asking our parents questions. Due to the Nazi past, everything bad was compared to the Third Reich. If you heard about police brutality, that was said to be just like the SS. The moment you see your own country as the continuation of a fascist state, you give yourself permission to do almost anything against it. You see your action as the resistance that your parents did not put up," wrote Stefan Aust, author of Der Baader Meinhof Komplex.
The website for the Rigaer Straße 94 squat compared their experience with the raids to the "Schutzstaffel", the Nazi party's paramilitary organization known as the SS.
You can share this story on social media: