6 injured after leopard strays into school, attacks staff (VIDEO)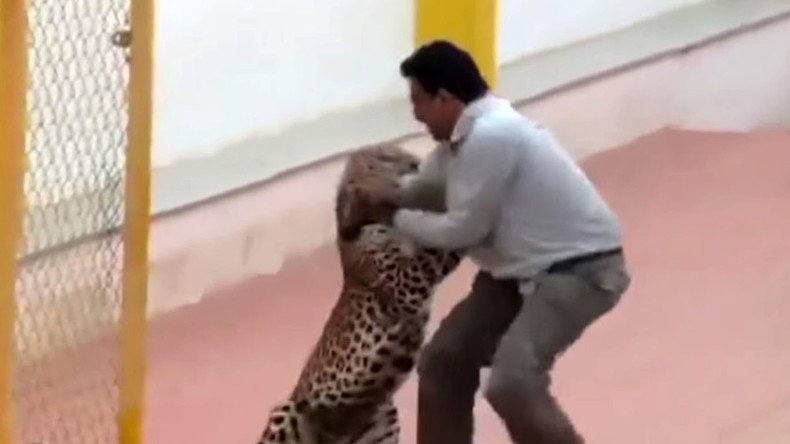 Shocking video from the Indian city of Bangalore shows a wild leopard attacking its captors after straying on to the grounds of a school.
The Forest Department was called out to tranquilize and remove the wild animal after security noticed a male leopard wandering the halls of Vibgyor High in the suburb of Marathahalli on Sunday, the Hindu Times reports.
After shooting the eight-year-old leopard with a tranquilizer dart, but before the effects kicked in, things took a violent turn as the leopard attacked those trying to remove it to safety.
One man involved, wildlife conservationist Sanjay Gubbi, can be seen trying to escape over a metal railing, but the leopard jumps up and pulls him to the ground.
As Gubbi tries to get away a second time, he trips and the leopard pounces on him, biting his arm.
When the drugs eventually took full effect, the leopard, which is thought to have wandered from a nearby forest, collapsed and was removed to a local rescue center for treatment and observation.
It's not the first leopard to cause some drama among its human counterparts.
One man dubbed the 'Indian Bear Grylls' was either brave or stupid when he tried to battle a leopard in Indore, India with a stick in April 2015.
These villagers in the west Indian village of Ballarpur in Maharashtra also felt the wrath of the angered feline after he had been trapped inside a building.
You can share this story on social media: