Spain busts terror cell smuggling arms to ISIS disguised as humanitarian aid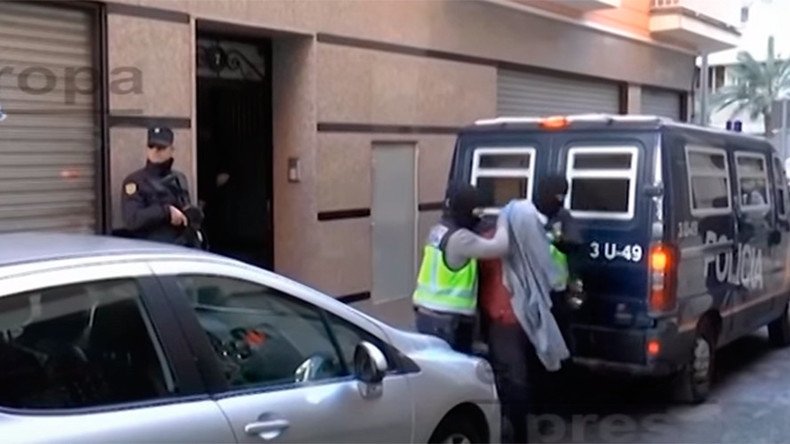 Seven suspected jihadist cell members have been arrested in Spain in a series of raids across southern provinces. The ring is being accused of funding terrorism as well as money laundering for Islamic State and Al-Nusra terrorist groups in Syria and Iraq.
The cell was also responsible for running arms, military equipment, bomb material, and electronic devices disguised as humanitarian shipments destined for the jihadist groups in the Middle East, Interior Minister Jorge Fernandez Diaz announced, confirming the arrest of seven cell members on Sunday.
Four of those detained are Spaniards of Syrian, Jordanian and Moroccan origin. Two others are Syrian and Moroccan nationals living in Spain. The national origin of the seventh ring member was not revealed.
Police said that they began investigating the cell in 2014, specifying that the ringleader was in direct contact with Islamic State (formerly ISIS/ISIL) and provided "logistical support that was essential for the maintenance of terror activities" in Syria and Iraq.
According to the police statement the "well-organized" cell spread across three cities and was coordinated by a ringleader who sent containers from Spanish ports to Islamic State and Al-Nusra fighters through his logistics business.
"The head of the cell directed a network of firms which enabled him to send the logistical material in sealed containers from Spanish ports to the terrorist groups operating in Syria and Iraq without raising suspicion," a spokesman for Spain's Foreign Ministry said in a statement.
Besides running arms shipments and laundering money the cell was also tasked by IS to find marriage material for jihadist fighters in Syria "following guidelines set down by the Islamic State group's leader Abu Bakr al-Baghdadi," the police statement said.
According to an ogoing investigation, the ringleader was in "constant" contact with a member of IS, while the entire cell was also "very active on social networks."
All seven men are now in custody and have been taken to Madrid for a court hearing where a judge is expected to rule to keep the suspects in custody. Diaz praised the security forces high level of professionalism and said the arrests "prevented the planning of terrorist acts".
A total of 82 suspected jihadists have been arrested in Spain since the beginning of 2015.
You can share this story on social media: