Russian runaway APC draws police into midnight cross-country chase (VIDEO)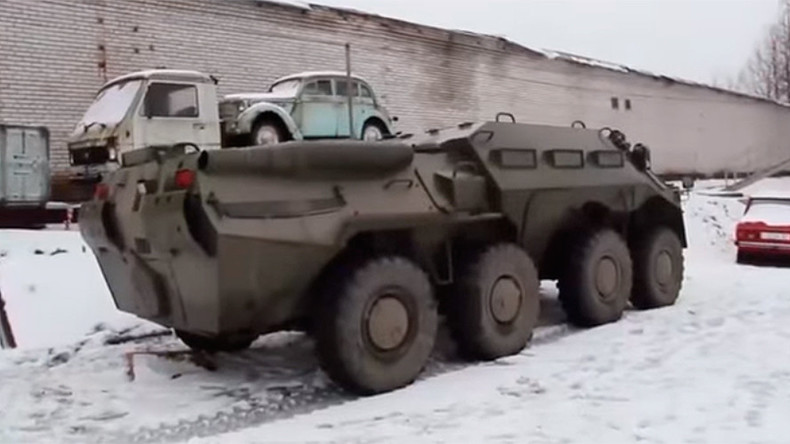 Russians are known to enjoy a free spirit unique ways to stay entertained, and Sunday was no exception for two villagers who decided to take an armored personnel carrier (APC) for a spin in the middle of the night, prompting an exciting police chase.
The story unfolded in the middle of the night when a police station in Karavaevo, located 130 km southwest of St. Petersburg, received a phone call from local residents, telling them that someone was plowing through their backyard with an APC.
Police were quick to dispatch a patrol unit that encountered the APC on a rural road. But instead of halting its midnight spin, the carrier drivers decided to ram the police cruiser, which luckily avoided a head-on collision.
A high speed chase began, with the APC immediately offroading to try and shake off the police. Minutes later, the officers' car was stuck in dirt in the off-road field. Unable to pursue the outlaws further in their vehicle, the officers ran after the APC on foot, armed with their flashlights to guide the way.
They finally caught up with the raging APC at a point when it struck a tree and ended up in a ditch in a field in Leningrad Oblast. When the APC hatch was opened the policemen discovered two drunken men.
The suspects did not have a valid registration for their armored vehicle, and neither did they offer the explanation of how they got a hold of the APC.
A further investigation into the matter found out that the APC was not stolen from any of the military ranges in the Western Military District, spokesperson Colonel Igor Muginov confirmed to RIA. He added that judging by the appearance the APC it was a "non-combat vehicle".
Police have towed the armed personnel carrier and detained both men for questioning. They are facing a fine of 30,000 rubles ($400) and a license suspension of up to two years.
You can share this story on social media: