Twice the size of Burj Khalifa: Mile-high tower proposed as centerpiece of future Tokyo (PHOTOS)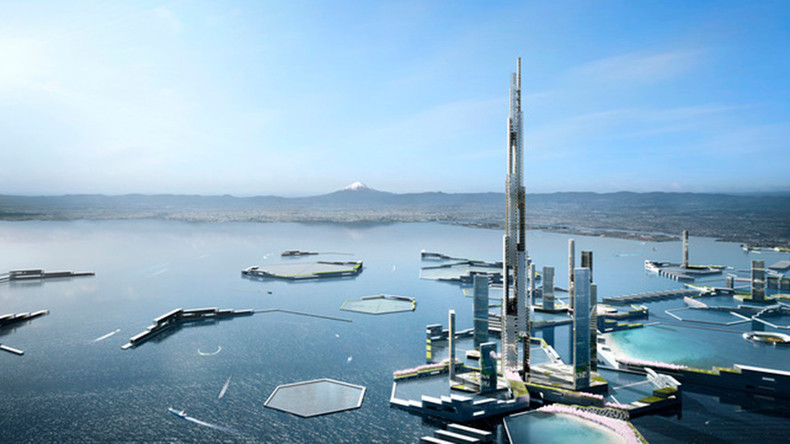 Architects want to build a mile-high skyscraper in the Japanese city of Tokyo, two times the size of the world's current tallest building. The aptly titled "Sky Mile Tower" is proposed as part of sustainable Tokyo development plan till 2045.
The tower would measure 5,577 feet (1,700 meters) in height, roughly double the size of Dubai's Burj Khalifa, which comes in at 2,722 feet (830 meters).
The colossal structure is the centrepiece of a "futuristic mega-city" outlined in an initiative called "Next Tokyo," which creates a new vision for Tokyo Bay, Architectural Digest reported.
If approval is granted, the tower will house 55,000 people and multiple shopping centers, restaurants, hotels and other amenities as well as operating as a public transport hub.
It is proposed that the new city could, if it is developed by then, be connected to Elon Musk's high speed transit system Hyperloop, although it too is still at a very early stage in development.
READ MORE: MIT students to bring Elon Musk's Hyperloop closer to reality
To tackle the issue of pumping water around such a tall building, engineers have incorporated tanks at various points in the structure's design which would collect, treat and store water, "while relying on gravity for a natural distribution."
The super tower will be surrounded by a number of man-made hexagonal-shaped islands that form part of the development's defense against natural disasters such as flooding and earthquakes, as well as being able to house half a million people.
There are plans in place for the installation of numerous solar panels, wind turbines and algae farms to help generate energy for the city.
New York City based architects Kohn Pedersen Fox Associates and Leslie E. Robertson Associates designed the new building and surrounding islands.
You can share this story on social media: