Not Russian op, but NATO's incursion in Middle East to blame for Syrian crisis – Moscow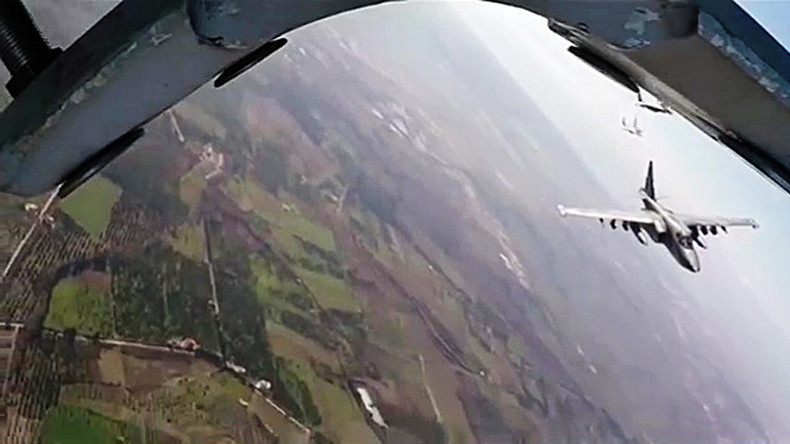 Russia's Defense Ministry has slammed NATO chief Jens Stoltenberg, labeling as 'nonsense' his comments that the Russian air operation in Syria is causing tensions and undermining the peace process in the country.
The NATO Secretary General made the controversial statement on Friday when he arrived at the EU defense ministers meeting in Amsterdam.
"The intense Russia air strikes, mainly targeting opposition groups in Syria, are undermining the efforts to find a political solution to the conflict… also causing increased tensions and violations of Turkish airspace," Stoltenberg said.
The comments that the Russia air operation is the source of tensions in Syria is "nonsense," Major General Igor Konashenkov, Russia's Defense Ministry spokesman, said on Sunday.
"If anybody in Syria is 'tense' today because of the actions of the Russian Air-Space Forces in Syria, it's the terrorists," he stressed.
"As for, why the NATO countries feel as 'tense' as the terrorists – it's a question to be addressed to Stoltenberg himself," he added.
The spokesman reminded of the openness with which the Russian air operation in Syria is being carried out, including daily briefings and release of video and photos.
"We would like to remind Mr Stoltenberg that it's not the Russian Air-Space Forces operation, which are source of the crisis in Syria, but the reckless actions of NATO that plunged the whole Middle Eastern region into chaos," Konashenkov said.
According to the spokesman, the possibility of peace talks between the Syrian government and opposition wasn't even discussed in the West before Moscow sent its warplanes to the country.
"Only the deadline for the complete destruction of the country (Syria), in accordance with the Libyan scenario where NATO countries have been freely establishing Western-style 'democracy,' was specified," he said.
The Russian involvement made the Syrians "start believing that it's still possible to fight and eliminate international terrorism in their country."
READ MORE: Russia can't 'unilaterally' impose Syria ceasefire while opposition rejects peace talks – Churkin
At a request of President Bashar Assad, Russia has been bombing Islamic State and other terror targets in Syria since September 30, 2015.
The Russian air operation has allowed Syrian government forces to launch a massive counter offensive against the jihadists, recapturing many important towns and villages in recent months.
You can share this story on social media: