N. Korea preparing 5th nuclear test - S. Korea spy agency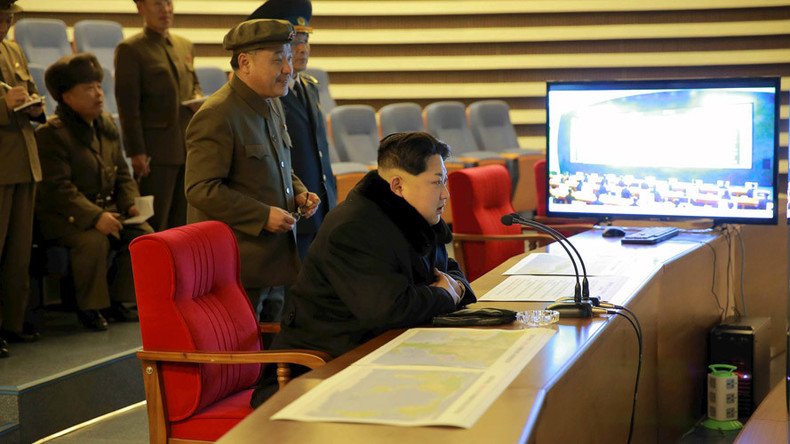 North Korea is preparing for its fifth nuclear test, the South's intelligence services have said, as cited by Yonhap agency. The news come hours after Pyongyang claimed it had successfully put an earth observation satellite into orbit.
Earlier the agency reported that the South Korean military found suspected fragments of the North's rocket.
The metal object believed to be a part of the rocket's fairing (the nose cone which houses the payload) was discovered southeast of South Korea's Jeju Island by a navy ship, an official from the country's Defense Ministry said.
Yonhap cited a Seoul lawmaker, who said the North has the technology for an intercontinental ballistic missile.
"The satellite is presumed to weigh 200 kilograms, two times heavier than the satellite launched in 2012," the lawmaker said, after being briefed in a closed-door session by the National Intelligence Service. A proper satellite usually weighs at least 800 to 1,500 kilograms, the agency wrote.
The North Korean satellite was launched on a "carrier rocket" that blasted off from the Sohae Space Center in Cholsan County. The KCNA news agency said the satellite entered its preset orbit nine minutes and 46 seconds after lift-off at 9:09am Korean time.
Russia's Interfax agency has cited the North Korean embassy in Moscow as saying that Pyongyang is planning to continue to launching rockets carrying satellites into space.
The launch triggered international concern as a potential long-range missile test. The UN Security Council has scheduled an emergency meeting to discuss the situation. South Korean bodies are already convening emergency meetings at different levels. The UNSC has been working on sanctions against Pyongyang for its January nuclear test.
READ MORE: S. Korea agrees to begin talks on US missile defense after North's rocket launch
"North Korea has committed an unacceptable provocation by launching a long-range missile after conducting a fourth nuclear test," South Korean President Park Geun-hye said. "The [UN] Security Council should quickly come up with strong sanctions."
South Korean officials say parts of the long-range rocket launched earlier by North Korea were likely received from Russia, TASS reported. North Korea manufactured everything, but important parts were probably received from Russia.
"We have information to prove that," a South Korean official said during a briefing.
Russian Foreign Minister Sergey Lavrov and his Japanese counterpart, Fumio Kishida, discussed the North Korean rocket launch on the phone on Sunday.
Lavrov stressed the importance of diplomacy in defusing tension in Northeast Asia during the conversation, Russia's Foreign Ministry said in a statement.
The discussion of the launch, performed in violation of UN Security Council resolutions, was initiated by the Japanese side, it added.
You can share this story on social media: