Samsung's 'transparent truck' hits the road in Argentina (VIDEOS)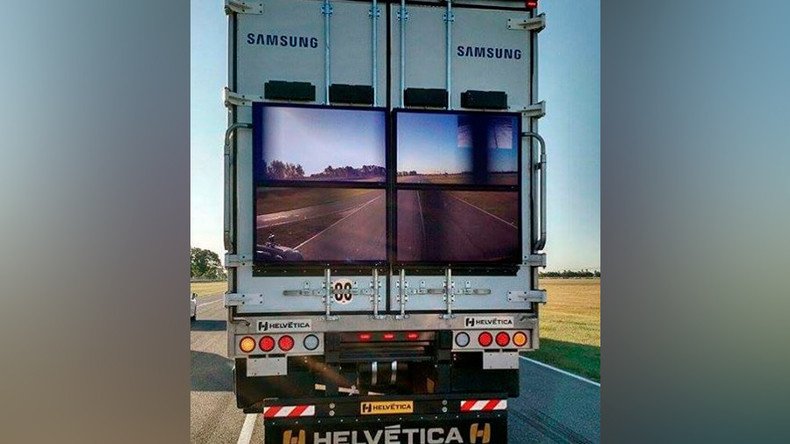 A transparent 'Safety Truck' is set for testing on Argentinian roads, after Samsung completed months of experiments. It enables car drivers trailing behind the vehicle to 'see through' it and decide whether it is safe to overtake the lorry on the highway.
The concept behind the technology that is being tested on Volvo trucks is quite simple: It displays a video feed on the back of a lorry of the driver's front view in a "see through" effect, to allow cars behind it to check whether it is safe to overtake.
The front of the truck is equipped with two front-facing cameras that relay a live feed onto four large panels on the back which form one big display.
The specially developed monitors on the back are water and dust proof and offer a crisp visual quality even if viewed under strong sunlight. Meanwhile, the cameras are allegedly capable of capturing clear video at night time.
"The advantage of the Safety Truck is that it may reduce the risk of accidents caused by sudden braking or animals crossing the road," the company said in a blog post.
The technology, which was revealed to the public last summer, was demonstrated at the La Plata racetrack in Buenos Aires this week. In Argentina one person dies in a traffic accident roughly every hour and Samsung is trying to decrease the number of road fatalities.
READ MORE: 'Safety Truck': Back screens on trucks may pave way for safer overtaking (VIDEO)
"We are trying to make a better world with innovation in technology. We hope traffic collision declines as more and more trucks use Samsung's signage technology," Samsung Argentina's Lee Sang-jik said.
If the pilot drives prove successful on the Argentinian roads, the company wants to make their driving safety technology global.
You can share this story on social media: