#RIPTwitter: Social network goes into meltdown over timeline change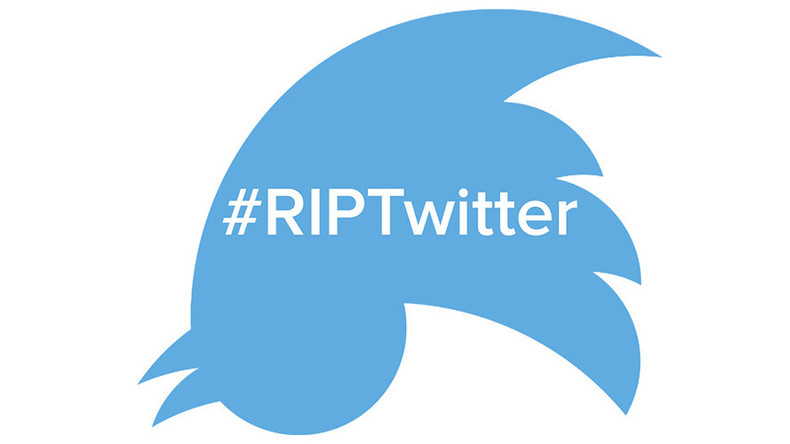 A million Twitter voices suddenly cried out in terror at the rumors of an imminent change to the social network's timeline that will see the posts curated and organized by algorithm, rather than time of posting.
The change was reported by BuzzFeed on Saturday morning, amidst claims it would be implemented next week. By the same evening, the hashtag #RIPTwitter became the most discussed on the social network, and was attached to over 1 million new tweets, the vast majority of them on the broad spectrum between outrage to despair.
CEO Jack Dorsey was forced to acknowledge concerns late on Saturday, but did not directly deny that there would be an overhaul of the live feed.
The exact nature of the update remains unconfirmed. Currently a Twitter user sees posts from its subscribed accounts in reverse chronological order, and none are missed out, even though a user may have to click several times to see older tweets.
The new algorithm may pick tweets that the social network believes are most relevant or popular, particularly for users who have been away for an extended period of time, or subscribe to too many accounts to easily scroll through all tweets. The mechanism may also allow sponsored tweets, which bring income to the California-based company, to appear more seamlessly.
Facebook has used an algorithm for its news feed since it was introduced a decade ago, a fact not lost on loyal Twitterati.
Twitter itself uses an optional algorithm, called 'while you were away' that curates tweets, as well as sorting out from millions of tweets when one types a keyword into its search box.
But, the biggest issue is likely to be whether users will be nudged hard towards the new mechanic, or left to make their choice as is convenient.
The change comes at one of the bleakest points in the company's ten-year history. Despite boasting over 330 million active users last month, the one-time Facebook rival has been left behind by other start-ups, and appears to be struggling to move beyond its (considerable) niche as a source of fast information, and a platform for strong opinions, and trivial updates.
Co-founder Jack Dorsey returned to the helm last year, but is coping with a stagnant user interface, instability among the top management, and lack of profits, which the company has still never made. The market capitalization of Twitter stands less than $11 billion after its shares have fallen almost three times below their IPO opening price.
You can share this story on social media: