Turkey says op against Kurdish militants in embattled Cizre almost complete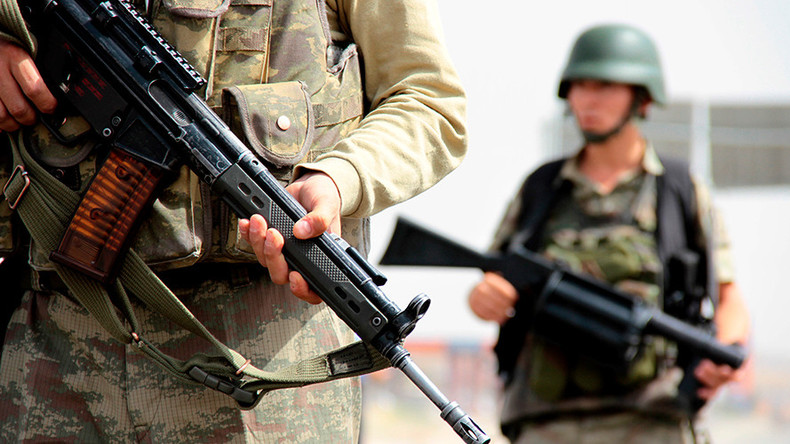 Turkey's military operation against the Kurdish fighters in the country's southeastern district of Cizre is almost completed and won't expand territorially, Efkan Ala, Turkish interior minister, said.
The operation in Cizre is 99.5 percent complete, with the remaining targets being high profile terrorists, Ala said, according to the Daily Sabah newspaper.
READ MORE: UN rights chief urges Turkey to 'promptly investigate' shooting of unarmed people in Cizre
The security forces are now working to relocate the displaced people back to Cizre and Sur districts, he said.
The areas became the venue of heaviest fighting after a ceasefire between the Turkish government and Kurdistan Workers' Party (PKK) broke in July 2015.
According to the minister, the total number of Kurdish fighters killed by the security forces in Sur, Cizre, and Silopi districts since mid-December has reached 718.
Dozens of PKK militants and four members of security forces were killed in southeastern Turkey on Thursday and Friday, the Turkish officials said.
According to Dogan news agency, nine suspected Kurdish fighters died and 25 others received injuries in a fire, which broke out in an apartment building Cizre on Saturday.
The General staff said that 11 PPK militiamen were killed in Cizre earlier on February 5, with 7 more Kurdish fighters eliminated in the Sur district of Diyarbakir.
There were also reports of four Kurdish being gunned down in an attack on security directorate building in the city Sirnak.
Meanwhile, Turkish Prime Minister Ahmet Davutoglu has unveiled a 10-part "action plan" aimed at "repairing" the Kurdish areas of the country after months of violence.
"Nobody should worry. No matter where it is – whether it is the Diyarbakır Bazaar, Mardin or Silopi – we will compensate the losses of all of our citizens due to terror. These [militants] have started a fire, but God willing we will grow a rose garden at the site of the fire," Davutoglu is cited by the Hurriyet daily.
The PM's plan included "bind all the wounds" and an investing of 26.5 billion Turkish Liras ($9 billion) into the economy of the southeastern Anatolia province.
According to the head of the government, it also featured such steps as "a communication system, consultation councils, a uniting spirit with neighboring countries, legal and administrative arrangements, building of public order, a comprehensive democratic reform process, social mobilization and recovery of space."
Davutoglu repeated that there'll be no mercy to terrorists from the Turkish state, but added that they'll be "differentiated" from the ordinary people.
"The people will be treated with compassion and the terrorists will be treated with power," he said.
However, this wasn't the case in Cizre where 20 people remain trapped in a basement for two weeks due to heavy fighting in the area. At least, six of them have died after ambulances were reportedly denied access to the site.
Over a hundred Turkish activists, including prominent scientists, writers and actors – have petitioned the government, calling the situation in Cizre as an "utter human tragedy" and demanding that authorities rescue the people trapped there.
"The government has denied to act on every request from every people, including MPs and civil society. So, we're just hoping the world will listen," Ozlem Dalkiran, a Turkish human rights activist, who signed the petition, told RT.
With Turkey and PPK shifting the blame, "let us have the authority to get in and rescue the people there," another signee, writer Levent Gultekin, said.
The Turkish campaign in the south-east has been slammed as a form of collective punishment of the Kurds by international human rights groups, due to Ankara imposing a strict curfew in some areas, depriving people of water and other basic necessities.
READ MORE: Hundreds flee southeast Turkey warzone as 23 killed, curfew expanded in Kurdish Diyarbakir
At least 150 civilian have already been killed during the Turkish operation, with over 200,000 lives having been put at risk, Amnesty International said.
Turkish military also launched a large air campaign against PKK in northern Iraq, hitting around 150 targets in the country's semi-autonomous Kurdistan region on Wednesday and Thursday.
Over 40 aircraft, including UAVs, AWACS surveillance planes, F-4E and F-16 jets, took part in the unauthorized operation on the territory of the foreign country, a military source told the Hurriyet.
Iraqi Defense Ministry spokesman, Nasir Nouri, blasted Ankara on for violating Iraq's sovereignty and urged all Turkish forces to leave the country soil without any preconditions, ABNA news agency reported.
You can share this story on social media: