Carnival craziness, Mardi Gras madness (PHOTOS, VIDEOS)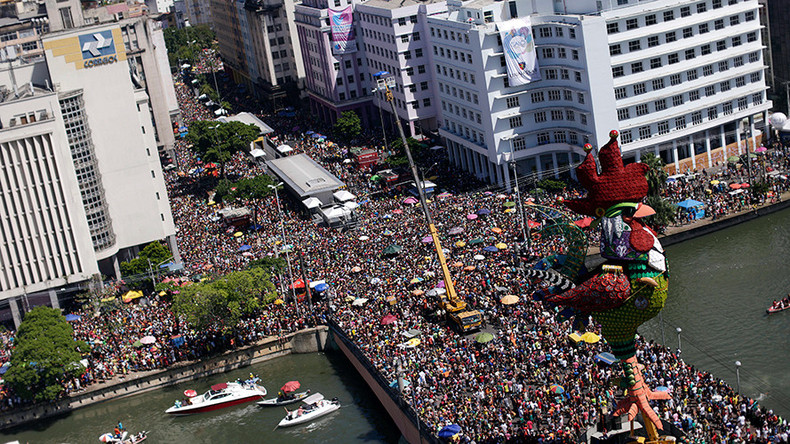 The annual celebration of debauchery and sin in the days leading up to Ash Wednesday and Easter is in full swing this weekend across the globe, particularly in the western hemisphere.
In Rio de Janeiro, Carnival comes just a few months before the 2016 Summer Olympics, an extra reason to celebrate (or escape depending which Brazilian you talk to).
Up north in the deep south US city of New Orleans, they're shouting "laissez les bons temps rouler!" – an old Cajun saying that means "let the good times roll."
Unmarred by the shady reputation of the "Girls Gone Wild" crowd in recent years, the colors, costumes, parades, dancing, and singing at Mardi Gras have a timeless quality, starting in New Orleans during the early days of the US and tracing back to medieval France.
The 24-hour party people celebrate for days leading up to the holiday's namesake, "Fat Tuesday".
It's the kind of party that inspires envy in those too far away from their hometown.
While the celebrations in New Orleans and Rio come out of slightly different traditions, albeit built around the same Catholic holidays, they both feature lavishly-designed floats and if you stay out late enough, there's a good chance you will see naked bodies.
There's plenty of music to enjoy too, which thousands certainly do.
And, of course, jazz. Jazz everywhere.
Some are even taking extra precautions due to the Zika virus epidemic.
In New Orleans, thousands have flocked to the city with many making sure they had their spot for the annual, and somewhat suggestive, "Greasing of the Poles" in the city's French Quarter.
Even a Donald Trump float turned up in the Big Easy.
It is a given there will be plenty of questionable dance moves on display.
Clothing, while almost optional in some places, produces some interesting results.
One woman even brought a whip.
Dogs are also getting in on the action.
Brazil and the US aren't the only countries celebrating this weekend.
Spaniards and Trinidadians are making sure they're not being outdone in the color department.
London too has been getting involved, with some spontaneous street parties.
If you're a fan of extravagant hats for Mardi Gras, then Binche in Belgium is a must.
And remember, you're never too old to get involved in the festivities.
You'll learn a lot about yourself along the way, including just how far you'll go to get to the next party.
By the end of the celebrations, although people will be tired, it will have been worth it, as evidenced by this woman.
You can share this story on social media: