Simple new blood test could spot 5 deadly cancers in early stages – study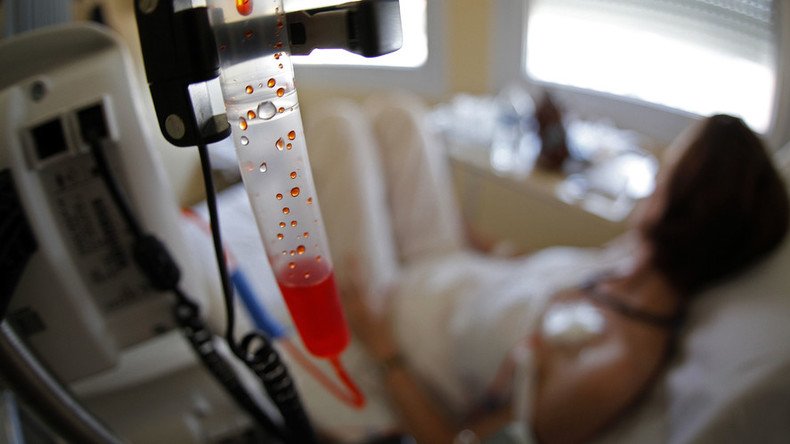 US scientists have found a genetic marker indicative of breast, bowel, lung, womb and stomach cancer and probably many other types of cancer. It means a simple blood test could be used to diagnose the deadly disease in its early stages, the study says.
"No one in my group slept the night after that discovery. We were so excited when we found this candidate biomarker. It's the first of its kind to apply to so many types of cancer," said Dr Laura Elnitski, senior author of the medical study, published in the Journal of Molecular Diagnostics on Friday.
The study, conducted by researchers of the National Human Genome Research Institute (NHGRI), argues that an increased presence of methylation traces, a process that regulates gene expression, around the gene called ZNF154, could point to cancerous developments in the body. The so-called hypermethylation is said to turn off genes designed to prevent tumors from spreading.
"Hypermethylation occurred in most tumors examined, regardless of subtype, stage of differentiation, age, or sex," the study says.
The methylation marker makes cancer easily diagnosed with a blood test, as cancerous cells release parts of their DNA into the bloodstream.
"Finding the methylation signature was an incredibly arduous and valuable process. These findings could be an important step in developing a test to identify early cancers through a blood test, " said NHGRI Scientific Director Dan Kastner, in a statement.
At the moment, blood tests can only determine the genome sequence of a particular cancer after doctors have found the tumor and tested the sample. The research findings will pave the way for less invasive testing techniques compared to common screening procedures such as colonoscopy and mammograms.
"We have laid the groundwork for developing a diagnostic test, which offers the hope of catching cancer earlier and dramatically improving the survival rate of people with many types of cancer," Elnitski added.
The prospective test promises to be fairly accurate, as about 10 percent of DNA circulating in the blood contains the marker.
"Such sensitivity should be adequate to detect advanced cancer and some intermediate and early tumors, depending on the tumor type," the study notes.
The researchers' next step will be to determine if other types of cancer, such as bladder, breast, colon and pancreatic can be diagnosed with the same diagnostic tools.
Together with the National Cancer Institute (NCI), they will verify the biomarker approach in the detection of ovarian cancer.
"Ovarian cancer is difficult to detect in its early stages, and there are no proven early detection methods. We are looking forward to testing Dr Elnitski's novel approach using DNA methylation signatures," said Dr Christina Annunziata from the NCI.
You can share this story on social media: