BDS Blacklist: Festival fights back against Israeli right wing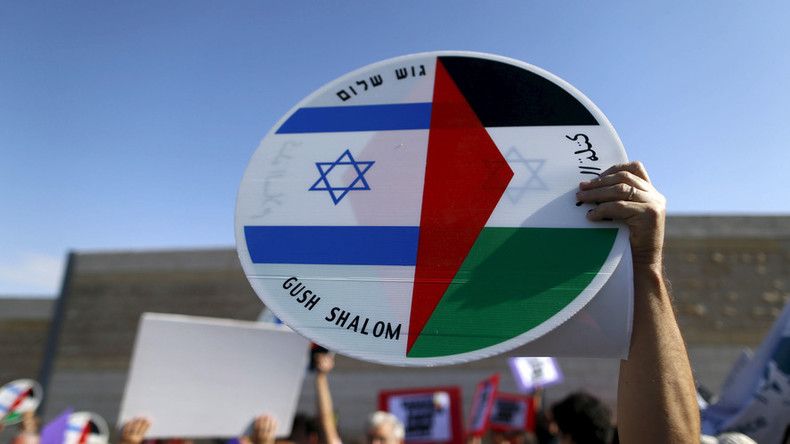 Human rights and "Boycott, Divestment, and Sanctions" (BDS) movement supporters held Blacklisted, an arts and music festival in Tel Aviv on Friday night, in resistance to the attacks they say they are receiving from right-wing Israelis.
They say the government-backed campaign aims to expose Israeli artists and public figures who speak out against the occupation of Palestinian land - and support human rights groups and the BDS movement.
"In light of the government's recent attempt to curb freedom of expression in the arts and civil society, we are coming together for a performance of music and art to demonstrate our determination to uphold democracy in Israel," the group said about the festival.
One thousand people gathered for the concert and demonstration against Im Tirtzu, which the New York Times describes as an "ultra-Zionist organization."
Im Tirtzu's campaign accused cultural figures of being "moles" for foreign governments, but later apologized.
More than 50 groups organized the event in what was called "part protest and part demonstration of strength."
Speaking before the event, heads of human rights groups told of their experiences being silenced and undermined.
Yuli Novak from Breaking the Silence, which collects testimonies from Israeli soldiers, said their treatment resulted from "the Israeli government's inability to offer a political solution to the security situation, the economic recession, and the growing international criticism of the occupation."
The BDS movement took some big hits last year after Israel announced it was spending ₪100 million ($26 million) to "combat" BDS movements worldwide.
Speaking to the American Israel Public Affairs Committee (AIPAC), conservative Israeli prime minister Benjamin Netanyahu said: "One movement that's definitely on the wrong side of the moral divide is the movement to boycott Israel, the so-called BDS. That movement will fail. But the fact that they're going to fail doesn't mean that the BDS movement shouldn't be vigorously opposed. It's not that Israel, like all states, is not beyond criticism. But the BDS movement is not about legitimate criticism. It's about making Israel illegitimate. BDS is nothing but a farce."
On February 17, 2015, according to the Daily Caller, BDS activists, including college students, woke up to find their names listed on a new website CanaryMission.org, which claims to "expose... anti-Semitic activists".
The unknown "students and concerned citizens" who claim to run the website have been described as "Modern Day McCarthyites" and "shadowy".
"The focus on young people and students is an effort to try to tell people that there will be a price for you taking a political position," Ali Abunimah, the founder of the pro-Palestinian website Electronic Intifada told Haaretz. "It's an effort to punish and deter people from standing up for what they believe."
It is not known who operates the "Canary Mission" site and no organizations or individuals are listed.
An investigation by Forward.com sourced the sites earliest use to a South African living in Israel named Warren Betzalel Lapidus. He would not reply to their invitation for a comment.
Also last year, in November, a small group of French activists were found guilty of provoking discrimination after holding a small rally calling for the boycott of Israeli goods. They were forced to pay €12,000 in damages to the plaintiffs as well as legal fees.
French Justice Minister Christiane Taubira is still being confronted with questions about this case and her country's laws barring pro-BDS demonstrations.
The controversial French law states the boycott of goods from any country constitutes national discrimination and is punishable by law.
Speaking in 2013, Taubira said that boycotting in itself is a valid tactic of civic protest.
The US civil rights leader Martin Luther King Jr called for a boycott of products like Coca-Cola and Wonder Bread in his final speech before his assassination.
US president Barack Obama, who frequently invokes King's legacy, signed an anti-BDS bill into law last summer giving him authority to prioritize a ban on the BDS movement during trade talks with the European Union.
You can share this story on social media: