Taiwan residential tower toppled by deadly 6.4 quake (AERIAL FOOTAGE)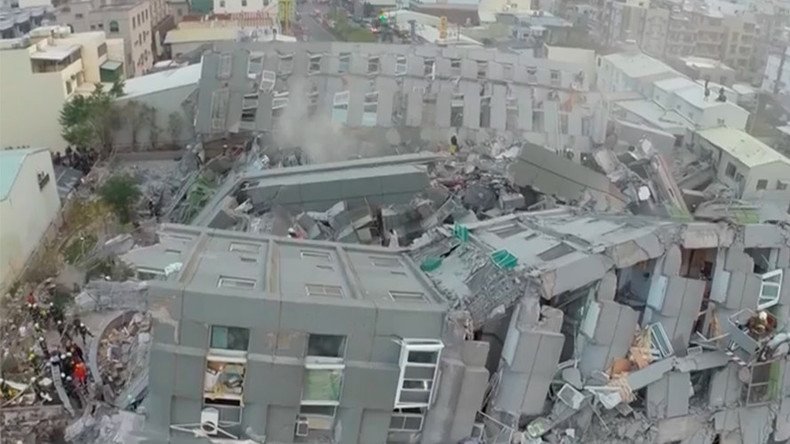 A few seconds of earthquake fury killed at least 14 people, injured dozens and shattered the lives of hundreds who lived in the Wei Guan apartment building complex in Tainan. Aerial footage shows the extent of the disaster which people woke up to ahead of Chinese New Year.
READ MORE: At least 14 killed as multiple buildings collapse in 6.4 Taiwan quake
Captured high over the main disaster scene, the aerial footage showing the wrath of mother nature displayed a complete devastation of the Wei Guan complex's two buildings that housed more than 250 people consisting of over 90 households. Local media said the collapsed building complex included a care center for newborns and mothers.
Eight people have officially been confirmed dead so far, including a 10-day-old infant, a 40-year-old man and a 55-year-old woman.
LIVE UPDATES: Rescue teams respond to extensive damage after Taiwan quake
Firefighters and rescue teams among tons of stone-cold concrete can be seen scrambling to save lives of dozens still believed trapped under the rubble. Ladders, cranes and other equipment are seen extracting survivors from the buildings that lay flat on one side of the road.
Rescuers have so far pulled out 247 people from the two residential high-rises that collapsed when a shallow 6.4-magnitude earthquake struck. Many are still trapped inside the concrete ruble. Some 115 residents lucky enough to escape the consequence of the natural disaster were rushed to a hospital.
The 6.4 quake which hit early on Saturday morning, just before Chinese New Year celebrations on February 8, caught people completely unaware in their sleep. They were preparing to fill the weekend with family celebrations.
Rescue teams and special canine units are continuing their search for possible survivors.
You can share this story on social media: