UK, Sweden reject UN panel ruling in favor of Julian Assange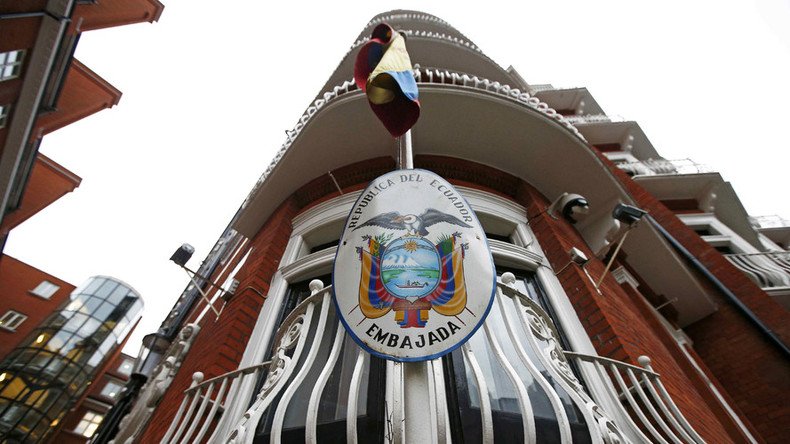 Britain says it rejects a UN panel ruling that WikiLeaks founder Julian Assange is the victim of arbitrary detention at the Ecuadorian embassy in London and insists he will still be extradited to Sweden if arrested in the UK.
"This changes nothing," a British government spokesman responded to the UN decision, adding that London will formally contest the ruling.
The UK insists that Assange is voluntarily avoiding lawful arrest by staying at the Ecuadorian mission in the British capital and Whitehall is "deeply frustrated that this unacceptable situation is still being allowed to continue."
"An allegation of rape is still outstanding and a European Arrest Warrant in place, so the UK continues to have a legal obligation to extradite him to Sweden. As the UK is not a party to the Caracas Convention, we do not recognize 'diplomatic asylum'," the statement said in reference to a 1954 treaty between Latin American countries, under which Ecuador gave Assange diplomatic asylum at its embassy.
The Swedish government expressed its own disagreement with the UN decision and questioned its legal competence to consider "issues related to fugitives' self-confinement, such as asylum and extradition."
It added that it has no power to interfere with a criminal investigation against Assange and that Sweden has legal safeguards in place that ensure he would "not face a risk of refoulement contrary to international human rights obligations to the United States from Sweden."
Earlier UN's Working Group on Arbitrary Detention (WGAD) said that Assange's stay at the embassy and his previous experience with the Swedish and British legal systems amounted to arbitrary detention by Britain and Sweden.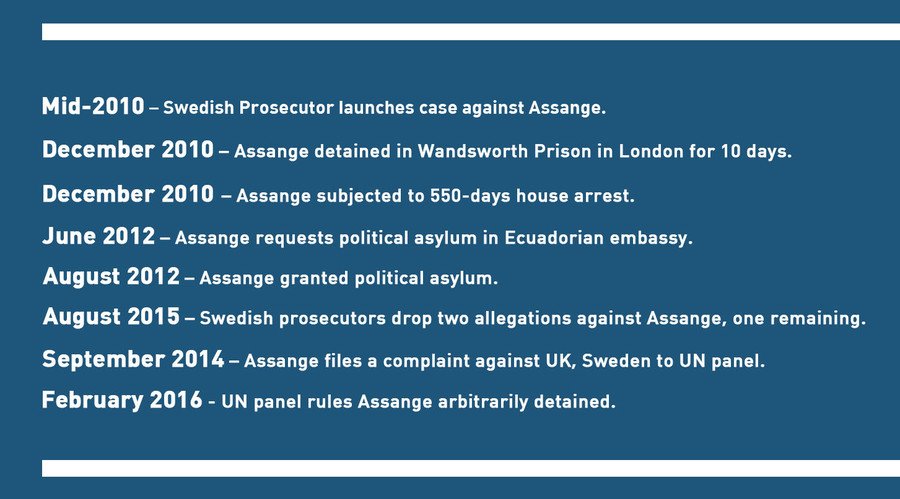 It said that Assange was entitled to freedom of travel and a compensation for his detention and called on the UK and Sweden to act accordingly.
WGAS opinions are binding, but the UN relies on the goodwill of member states to enforce its decisions, Christophe Peschoux from the Office of the UN's High Commissioner for Human Rights, which oversees the working group, said on Friday. This leaves the question of what would happen to Assange if he chooses to leave the embassy as he said he would.
"We have no way of knowing what will happen, but given the heavy surveillance he is subjected to and the international arrest warrant, which is still valid, he is likely to be arrested," the UN official said.
The opinion was a rare case of split vote rather than a consensus vote, Peschoux said. Four of the five members voted, as Leigh Toomey of Australia didn't participate in the case because she shares nationality with Assange. The Ukrainian representative Vladimir Tochilovsky dissented from the majority opinion.
Assange has been living at the Ecuadorian embassy since 2012 under constant surveillance by British law enforcement. He was granted asylum after arguing that his extradition to Sweden would result in his eventual extradition to the US, where he is wanted on espionage charges related to his work for WikiLeaks. He insists that the website was defending human rights and exposing illegal actions by revealing classified material to public scrutiny.
You can share this story on social media: