NZ minister gets dildo in face after TPP signing (VIDEO)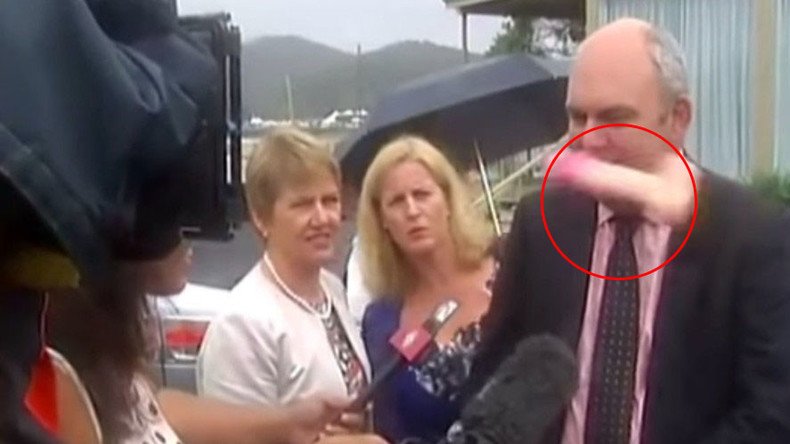 Mass protests over the TPP in New Zealand did not pass by without tomfoolery; a day after thousands took to the streets of Auckland, Economic Development Minister Steven Joyce was hit with a sex toy thrown by a woman, while speaking at Waitangi.
Joyce was an easy target, giving an interview to the press, following the February 4 signing of the TPP agreement, hailed as "the biggest trade deal in a generation."
But several thousand protesters had gathered earlier to march against the agreement, and a sizable presence was at Waitangi as well, four hours north of the original march, in Auckland.
Shouting "that's for raping our sovereignty," the woman threw a huge pink rubber penis, hitting Joyce square in the face. Security quickly led her away.
Joyce said this was the first time an object had been hurled at him, despite projectiles not being uncommon in politics.
"We actually thought it was a little bit humorous at the end of it all," the minister told journalists.
"New experiences in politics every day, it's the privilege of serving," he added.
READ MORE: TPP formally signed in New Zealand as mass protest paralyzes Auckland (PHOTOS, VIDEO)
Dildo-dispatcher Josie Butler, though, has a bone to pick with Joyce, and she's a frequent visitor at demonstrations. Asked about the sex-toy tactic, she told TVNZ: "I am worried about patient rights because of the price of medications going up."
Like Butler, activists continue to oppose the TPP on the grounds it might lead to job losses, stagnant wages and increasing inequality.
Waitangi is also an indigenous celebration, commemorating the signing of the treaty between the Crown and the indigenous Maori people.
You can share this story on social media: