Going green? 85,000 tons of chemical-brightened olives seized in Italy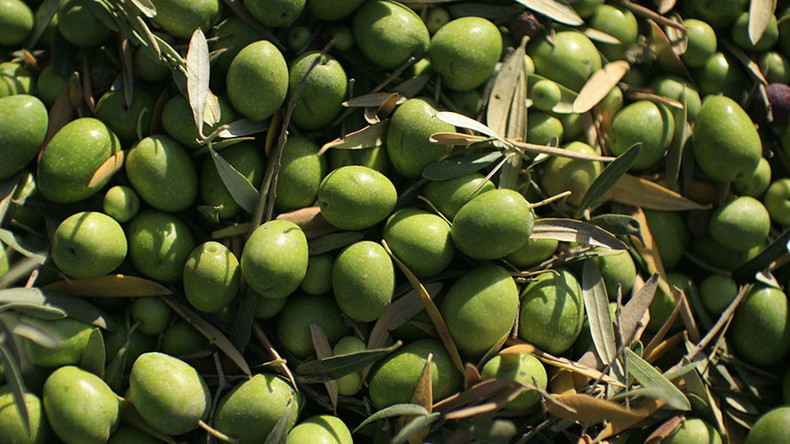 Police in Italy have seized more than 85,000 tons of green olives painted with copper sulphate to make them look fresher, adding to thousands of tons of counterfeit foreign olive oil passed off as "Made in Italy."
Italy's top-selling products – green olives and olive oil – have long been a source of national pride and are successful exports. The country is among the top five European olive oil exporters, according to 2015 estimates by the Madrid-based International Olive Council, which operates under the auspices of the United Nations.
But between 2014 and 2015 the olive crop was hit by bad weather, fruit-fly blight and a deadly bacterium – all of which left the Italian market more vulnerable to the risk of 'counterfeit' olives.
On Wednesday, Italian police said 19 people are facing charges over "painting" green olives from previous years' harvests with copper sulphate to give them an intense, uniform green color. The "painted olives cases" also include the use of banned additives and plans to sell edible goods containing dangerous substances.
Police said using copper sulphate was a "smart choice" because it is not usually classified as a chemical colorant, so food control authorities do not test or look for it.
They added that six people are under investigation in Italy's southern Puglia region, where 7,000 tons of olive oil was seized. The products claimed to be the Italian "extra virgin" variant which is known all over the world for its rich taste and health benefits.
Police said, however, that DNA tests showed the olives used to produce the counterfeit oil did not come from Italy, but from other countries, including Syria and Turkey.
Thousands of tons of foreign-made oil – falsely labeled as "Made in Italy" – have also been sold in countries like the US and Japan, according to the authorities, sparking fears that counterfeit oil could damage the time-proven reputation of Italian foodstuffs.
Overexposure to copper sulphate, normally used in pesticide products, can cause nausea, vomiting and abdominal pain. It can be lethal in some cases.
You can share this story on social media: