Single episode of Russian cartoon 'Masha and the Bear' conquers world with billion+ YouTube views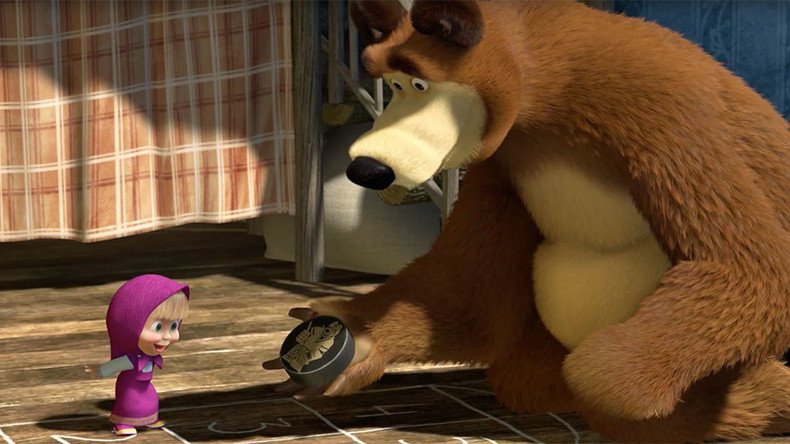 The Russian cartoon Masha i Medved (Masha and the Bear) is among only 20 videos in YouTube's history that have managed to garner over a billion views.
The episode was Masha plyus Kasha (or Masha and the Porridge) and it was uploaded on YouTube four years ago - in January 2012. However, it was not as fast as Adele's Hello, which reached the benchmark in just 87 days.
It turns out it isn't Russians who are the cartoon's biggest fans - the Russian animated phenomenon, where a little girl pretty much terrorizes or pranks a hapless bear, has garnered a huge following in the United States, Germany, Australia, the United Arab Emirates and Malaysia.
The show has been translated into 25 languages and is aired in 100 countries worldwide. It's the minimal dialogue (and animal cruelty) that young parents probably love the most, and could be the cartoon's selling point, the creators believe.
According to Vedomosti, Australian parents have been caught asking where to download the latest episode on forums. In Italy, shops are overloaded with Masha and the Bear merchandize.
That's not to say the cartoon isn't without its haters - some see it as just weird and Russian. However, the show managed another 100 million just two or three days after hitting the billion mark, something that is probably down to YouTube's popularity-boosting trickery.
The top spot on YouTube is firmly held by Psy's Gangnam Style, with a staggering 2.5 billion views. Taylor Swift's Blank Space and Wiz Khalifa's See You Again follow with about 1.4 to 1.5 billion each.
You can share this story on social media: