Drone 'destroys Boko Haram base' in Nigeria (VIDEO)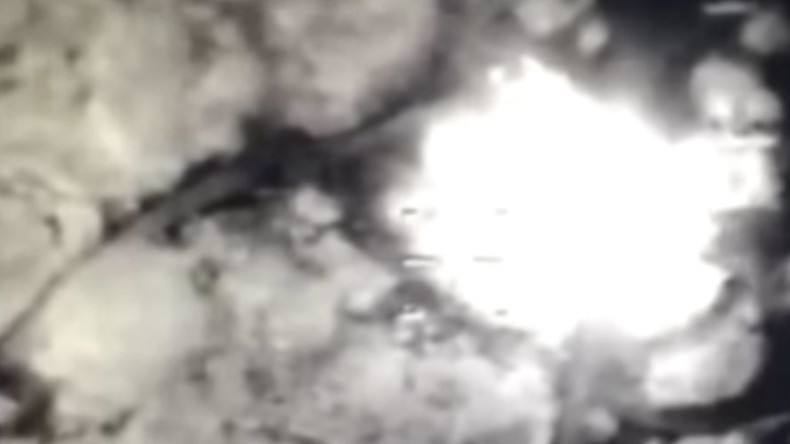 Nigeria's air force has released dramatic aerial footage showing a drone targeting and destroying a reported Boko Haram base near Sambisa Forest in the northeast of the country.
It's unclear how many casualties the attack caused, though the military claims there were fatalities and equipment was destroyed, The Nation reports.
"The Nigerian Air Force Unmanned Combat Aerial Vehicle (UAV) has destroyed a logistics base used by members of the Boko Haram Terrorists (BHT) group," Nigerian Air Force (NAF) Group Captain Ayodele Famuyiwa, said in a statement released alongside the footage.
"This strike is a major setback for the Boko Haram sect and a major plus for the fight against insurgency."
According to Famuyiwa, the base was discovered during a surveillance operation which "came across a gathering of Boko Haram terrorists at Garin Moloma, about 1km north of the Sambisa Forest".
Although the use of the buildings targeted is unclear from the video footage, Famuyiwa said that the resulting explosion suggests that the base acted as a weapons or fuel depot: "The multiple explosions and huge fireball from the location, as can be seen from the enclosed video of the UAV strike, strongly suggests that it may be either an ammunition/fuel storage or weapons/technical workshop."
READ MORE: Over 80 killed, children burnt to death in Boko Haram attack in Nigeria
Meanwhile, The Nation also reports that two alleged suicide bombers were stopped from entering the Borno State capital, Maidaguri - the birthplace of Boko Haram.
The Nigerian army was earlier reported to have rescued 500 people and killed 50 suspected terrorists during an operation around Mafa, Dikwa and Kala areas of Borno state, according to NAIJ.com.
The Boko Haram terrorist group aims to establish Islamist rule and has killed around 20,000 people and displaced 2.5 million since they launched an insurgency back in 2009.
You can share this story on social media: