Attitudes and facts: US, Russia diplomats spar on Twitter over World War 3 map in vintage magazine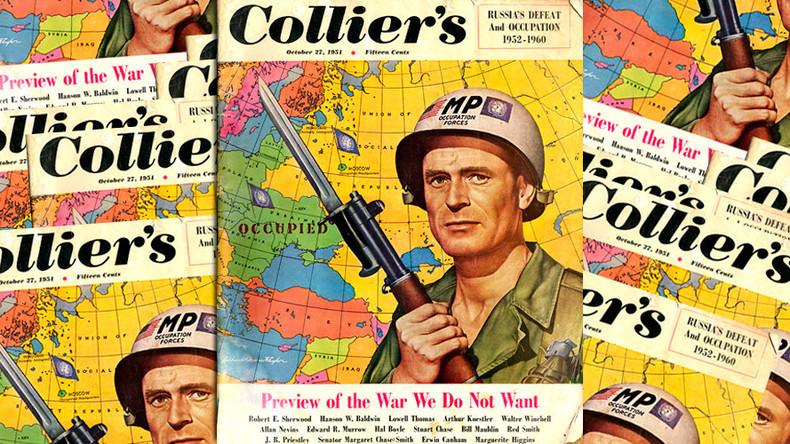 A Russian and a US diplomat engaged in a Twitter spat over a 1950s magazine cover depicting a hypothetical map of Europe. However, the American diplomat seemed a little lost in his facts and translations.
It started when the Russian Foreign Ministry illustrated a tweet about a statement from spokeswoman Maria Zakharova's with a Collier's magazine cover from 1951. In the issue some of the Collier's writers speculated about how World War 3 would unfold.
While the map is clearly fictional, its use was intended to show how the US and NATO's role in Europe could have played out, including for Russia.
"Unfortunately, Washington continues shamelessly promoting the "Russian threat" concept," Zakharova said.
"The US is using baseless accusations about Russia to justify moving its military infrastructure closer to our borders," Zakharova added.
The tweet could have simply disappeared in the internet abyss, but was noticed by the US embassy spokesman in Moscow, Will Stevens, who pointed out that Crimea was part of Ukraine on the map while not missing an opportunity to sarcastically suggest that the Russian Ministry agreed.
Later, in comments, he admitted that he did not recognize the Cold War-era picture.
The situation then snowballed into a Twitter duel with Stevens' counterpart, the Russian embassy spokesperson in the US, Yury Melnik, joining the spat. He explained the picture's source.
"Seriously?! It's the cover of Collier's on Oct 27, 1951. Map still inaccurate, but shows the attitude," Melnik responded in comments to Stevens' take on the Foreign Ministry's post.
Newly enlightened, Stevens went on to inform the representative office of the Russian Ministry in the city of Pskov that the map in question dates back to 1951.
However, this is where Stevens got the facts wrong, which Melnik did not hesitate to point out.
This is where things started getting personal with Stevens seemingly doubting his counterpart's grasp of Soviet history.
Stevens actually fast-forwarded three years, to 1954 – haven't we just been taking about 1951? – when the Soviet leader Nikita Khrushchev, a native of Ukraine, handed Crimea over to the Ukrainian Soviet Socialist Republic. A newspaper clipping that he tweeted contained a decree about Crimea's transfer on February 19, 1954.
However, "return" is not the correct wording: the Crimean Peninsula was part of Russia from 1784 until 1954.
In Collier's 1951 "Review of the War We Don't Want", the magazine's editors and guest writers envisioned World War 3 occurring in 1952-1955, starting with the Soviet invasion of Yugoslavia and ending with a nuclear battle between NATO and the USSR. As a result, Western powers would occupy and partition the USSR, set up an "occupation headquarters" in Moscow, and establish Ukraine (along with Crimea) as a separate "occupied" territory.
You can share this story on social media: