Death Star: Supermassive black hole blast travels 300,000 light years (PHOTO)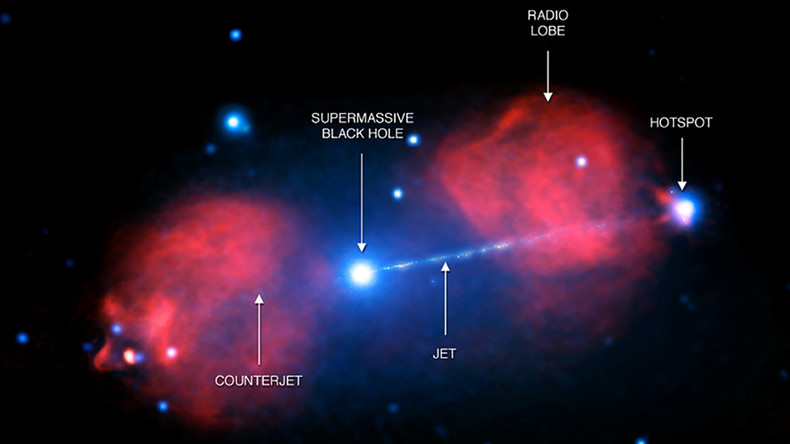 Likened to a scene in the sci-fi epic Star Wars, a new image released by NASA shows what happens when a blast of energy beams across the galaxy from a supermassive black hole.
A composite photograph taken over the course of 15 years by the space agency's Chandra X-ray Observatory looks like the superlaser from the Death Star planet destroyer.
But fear not: the phenomenon is nearly 500 million light years from earth and is apparently part of the normal workings of the universe.
It shows a "huge amount of gravitational energy" swirling in intergalactic space.
According to NASA, the enormous jet of particles and electrons is travelling over a distance of 300,000 light years at almost the speed of light – giving some indication to the forces on display.
Using x-ray imagery, a blue beam can be seen by the naked eye shooting from left to right through gas into a bright area known as a "hotspot".
The black hole was photographed in the Pictor A galaxy. Black holes, or singularities, are sometimes referred to as 'star eaters,' due to their gravitational pull.
READ MORE: NASA finds supermassive black hole that 'burps' gas

NASA experts have been studying the image to gain further insights into the blasts of energy and electromagnetic radiation.
Earlier this month, scientists spotted a similar space vortex which appeared to be "burping" gas and star-forming dust.
You can share this story on social media: