Pimp my ride: Mumbai taxis transformed through fabric art interiors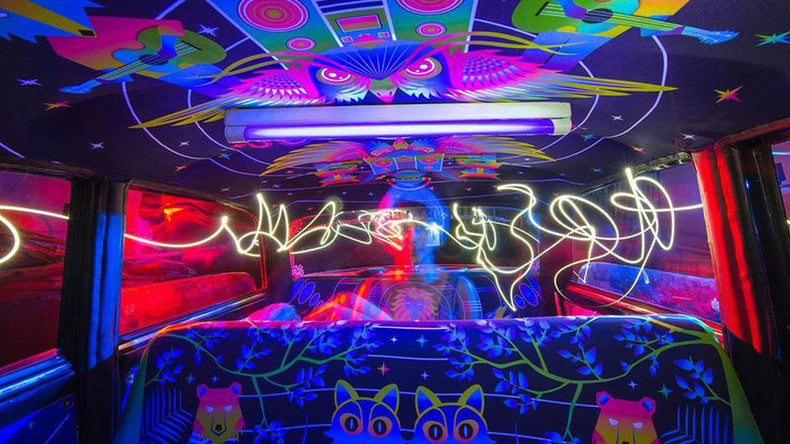 Taking a taxi in Mumbai, India is an experience like no other. It may not be the quickest way to tackle bumper-to-bumper traffic, but a new initiative is transforming the comfort of that journey by decking out cabs with colorful local designs.
The Taxi Fabric project, which raised £11,000 (US$16,000) through a crowdfunding campaign, is giving designers the chance to showcase their work in this traveling exhibition.
The unique designs cover almost every inch of the cabs' interiors, transporting passengers to their destinations in a kaleidoscope of color.
Designers submit their creations to Taxi Fabric, who then give each taxi an "identity label" with the designer's name and contact details. Each project has its own specific title and concept.
For example, this design by Shaivalini Kumar is entitled "Happy Ever After" and focuses on the blends of architecture in Mumbai.
The designer said Taxi Fabric is "creating a close knit community for us designers where we get to learn about each other and understand what it is that incites each of us to create the work that we do today."
Visual artist Aditi Dash, 24, captured Mumbai's nightlife in her creation, "Nocturnal".
"Through my two years in this vivacious city, one characteristic really managed to stand out," the artist explained.
"It truly is the city that never sleeps, No matter the time, Mumbai is always active.... The design is my take on the different kinds of characters you come across in Mumbai in the night time-and my representation of the energy that I find in its people."
"The Three Wheel Vibe" is the creation of Sanskar Sawant and is a tribute to India's rickshaws.
Sawant says the "auto rickshaw has become a story. It educates you, entertains you and freshen ups your mood."
Taxi Fabric was launched with its crowdfunding campaign almost a year ago by designer Sanket Avlan, who had been based in Karachi before his team moved to India. Although initially focused on Mumbai's classic black and yellow cabs, the project is also extending to rickshaws, according to a Kickstarter update.
The initiative received extra exposure recently when one of their cabs was placed center-stage in Coldplay's new music video, Hymn for the weekend. The track also features Beyoncé and Sonam Kapoor.
You can share this story on social media: