'Blast' reported at secondary school in Karlstad, Sweden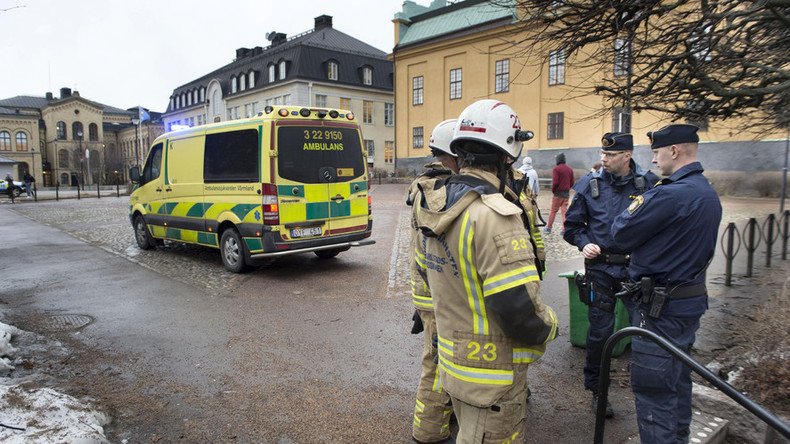 A "powerful explosion" has been reported at a school building in the Swedish town of Karlstad, local media say. Despite many people hearing a "bang," the source of the blast has not been established.
Fire broke out at the site following the explosion, Expressen newspaper reported. There have been no reports of casualties so far.
"We are on site now and are trying to ascertain what has exploded," Ola Akesson of Karlstad's emergency services told the Expressen newspaper.
The "bang" from the explosion could be heard in other parts of the city, she added.
"It was a powerful explosion," NWT cited Akesson as saying. Big plumes of smoke could also be seen rising from the site.
Smoke was coming from the roof of the school building, NWT reported, adding that a flash of light was also seen at the time of the blast.
"There was a very loud bang. We thought it was a bomb," one of the teachers, who was in the staff room inside the building at the time of the incident, told the NWT newspaper.
The source of the blast could possibly have been in the school's gym, public broadcaster SVT reported.
People have been evacuated from the building, and students are standing outside in groups, "many traumatized," according to SVT.
Authorities and rescue services are still puzzled by the incident, Aftonbladet reported, saying that despite a loud bang no visible indications of a possible explosion have been found at the site.
"There are no traces of anything. No one has been injured and there is no debris or anything at all indicating that something has gone off," rector Christine Holmberg told Aftonbladet, adding that "it's really strange."
Emergency and rescue services have left the site, according to Aftonbladet. No evidence of destruction or injured people have been found.
Police are now investigating the possibility of something having been manipulated outside the school building, Aftonbladet reported, adding that two men in black were reportedly seen running from the site at the time of the incident. Police are looking for the suspects.
You can share this story on social media: