'Beyond the Sun': Pontiff to feature in very own movie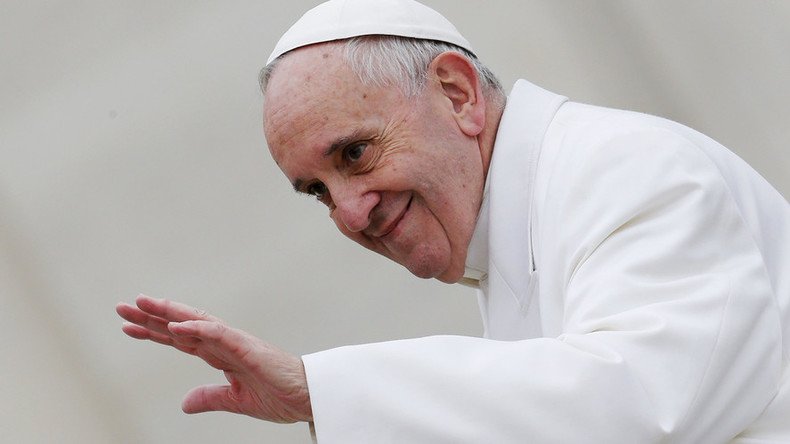 Pope Francis is set to become the first pope in history to play himself in a movie. He will star in the forthcoming film 'Beyond the Sun,' which will feature children around the world emulating the apostles, while searching for Jesus Christ.
The idea for the film actually came from Pope Francis himself, who pitched the story to filmmakers at the Hollywood-based AMBI Pictures, which was founded by Andrea Iervolino and Monika Bacardi in 2013. The company released the movie 'Septembers of Shiraz' in 2015, which starred Salma Hayek.
The Holy Father wanted to create a movie which would be able to reach out to children in order to spread the Catholic faith. His idea was to effectively portray Gospel passages and fables to youngsters.
Iervolino, who will finance the project, has been producing films since he was in his teens. In fact it all started when the church in his hometown of Cassino, Italy, allowed him to shoot footage inside the place of worship when he was 15. The Italian now says it will be the highlight of his career to work with Pope Francis.
"Our excitement and gratitude toward His Holiness, Pope Francis participating in this film is beyond words. This is not just a movie for us, it's a message, and who better to have on your side to deliver an important societal and spiritual message than the Pope," the Catholic News Agency reported.
Bacardi mentioned that the film will be entertaining for families across the globe, while 'Beyond the Sun' will also help to raise money for charities.
"It is a great honor for Andrea and I to have the opportunity to work with His Holiness, Pope Francis, to spread the awareness of his message, through this film. We will make a movie everyone involved with can be proud of. Not only will families from around the globe enjoy this film and be entertained, but they will be moved," she said, according to Variety.
All proceeds from the movie will go to the El Almendro and Los Hogares de Cristo charities, which are both based in Argentina, where Pope Francis hails from. The charitable organizations work with children and young adults who are in need of help and guidance.
However, the Vatican downplayed the role the pope would have in the film.
"The pope is not an actor," a Vatican spokesman said. However, the AMBI website suggests that the movie intends to "end with an epilogue from Pope Francis telling children how and where to find Jesus," Reuters reports.
Filming is set to begin in early 2016 on location in Italy.
You can share this story on social media: