Defending national sovereignty against outside meddling tops Venezuela's UNSC presidency agenda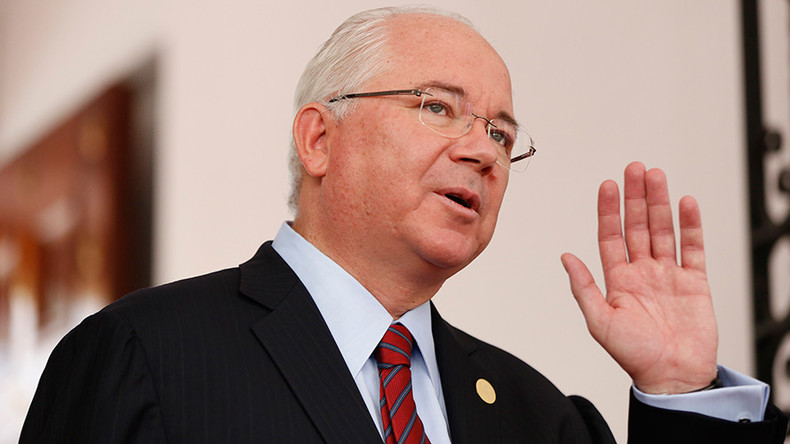 Protecting national sovereignty from outside interference into states' internal affairs will be at the top of Venezuela's agenda during the Latin American country's rotating presidency at the UN Security Council, ambassador Rafael Ramirez told RT.
Venezuela's ambassador to the UN, who took over the rotating presidency of the Security Council on Monday, told RT that it is vital to honor the "sovereignty of countries" and avoid interference "in their internal affairs."
Ramirez said that it is necessary to "respect international law and the UN Charter as a tool for peace," and that meddling in the affairs of other states violates this principle. The Ambassador said that he plans to hold a Security Council debate on February 15 on the topic of the national sovereignty of countries.
The ongoing conflicts in the Middle East serve as a "deplorable example" of what happens to countries once foreign interference holds root, Ramirez told RT, mentioning the tragic fate of Iraq, Libya and Syria.
The foreign invasion of Iraq, he said, led to the "collapse" of government institutions which manifested itself in "anarchy and the growth of extremism." In Libya, Islamic State (IS, formerly ISIS/ISIL) is on the rise after NATO-sponsored intervention, while the ongoing conflict in Syria has reached "international proportions."
With regards to Syria, Ramirez said that Venezuela fully supports the Syrian peace talks that are now underway in Geneva under the guidance of UN special envoy to Syria, Stefan de Mistura.
"One of our primary tasks is to promote the peaceful settlement of the Syrian conflict, the development of political dialogue, which encouraged the participants of the Geneva talks," Ramirez told RT.
He noted that so far the "most important event" in the negotiations was the statement by Damascus that the government is ready to "negotiate without preconditions."
At the same time, Ramirez said, that it is "very bad news," that the Kurdish opposition, which plays a "crucial role" in the conflict, is not taking part in the negotiations. In addition, Ramirez expressed disappointment that the Syrian opposition continues to insist on "preconditions which were not provided in the format of the dialogue."
"The government of Bashar Assad is trying to resist the terrible threat of the Islamic State, [and] extremist groups such as Al-Nusra Front," Ramirez stressed.
Venezuela, which will hold the Security Council presidency for the month of February, will focus all its efforts to facilitate the "eradication of armed extremism and terrorism" by honing all its discussions on the illegal financing and support of terrorist groups.
"These terrorist groups are committing horrific crimes, crimes against humanity, but, nevertheless, they are actively funded, they trade in oil and other valuable resources, enjoy broad support and have great military potential," Ramirez noted. The UNSC president said that he does not understand how it could still be possible for some counties to "continue to support these [terrorist] groups and use them as a tool to overthrow legitimate governments."
You can share this story on social media: