Hawking for drones: Dutch police train raptors to take down UAVs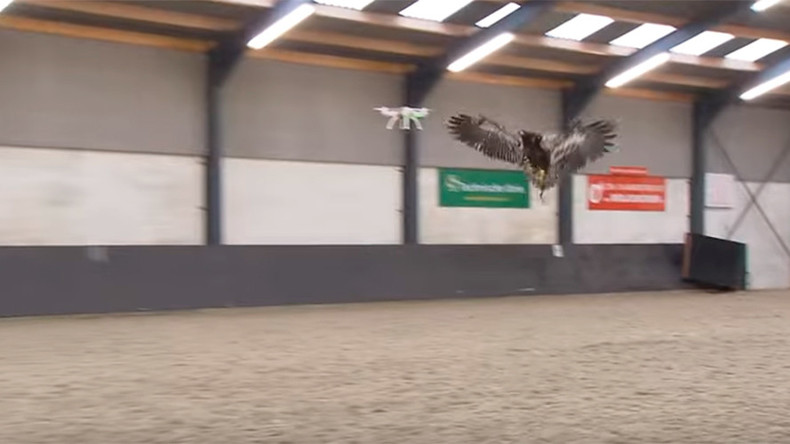 As the widespread availability of drones is starting to pose security risks, Dutch police are taking a medieval approach to the problem, training eagles and hawks to intercept UAVs in flight.
"In the future drones will be used increasingly, so will increase the number of incidents involving the drones. Drones can also be used for criminal purposes," police said in a statement on its website.
So the law enforcement partnered up with a bird training company 'Guard From Above' to teach raptors to take down "hostile" drones.
The police released a video showing first results of the training. In the video a hawk snatches the UAV and carries it away.
"The bird sees the drone as prey and takes it to a safe place, a place where there are no other birds or people," project spokesman Marc Wiebes said.
Governments have previously warned that drones could be used by criminals and terrorists, as the small UAVs are difficult to detect, increasing the risks of attacks.
In December, a UK government defense specialist warned that commercial jets run the risk of being struck by drones flown too close to them, either accidentally or in a planned terror attack.
Authorities in the US, Germany, Spain, and Egypt have foiled at least six potential terrorist attacks with drones since 2011, The Wall Street Journal reported in early 2015.
Meanwhile, a report by Center for a New American Security last year warned that more attacks can be expected.
Commercial off-the-shelf drones, which are becoming more advanced, popular and are widely available for purchase, have been successfully used to smuggle drug packages and could be modified to carry explosives, firearms, or other damaging objects instead, the report said.
Such drones have been used for surveillance or flights over private property or restricted government areas, notably including the White House and nuclear facilities in France, Belgium, and the UK, the report's authors noted.
There have also been allegations that Islamic State militants (IS, former ISIS, ISIL) have used a commercial drone for surveillance purposes.
You can share this story on social media: