Turkish artillery shells Syrian territory – Russian military presents video proof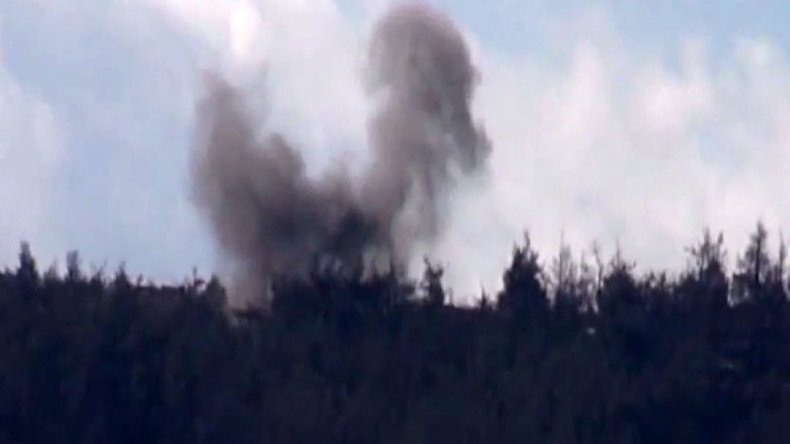 The Russian Defense Ministry has presented video evidence it says shows Turkish military shelling Syrian territory using heavy artillery positioned close to the border.
Syria's General Staff has provided its Russian counterparts with video footage of deployment of self-propelled large caliber artillery vehicles at a Turkish frontier post, Russian Defense Ministry spokesman Major General Igor Konashenkov said at media briefing on Monday.
Syrian opposition groups have also provided video evidence of the Turkish military shelling Syrian territory, he added.
"This is what we call a fact. This is irrefutable proof that Turkish armed forces shell borderline Syrian settlements with large-caliber artillery systems," Konashenkov stressed.
"We expect an immediate reaction and explanations of the actions of Turkish military by NATO and the Pentagon," Konashenkov said, recalling the US's notably short response time to Ankara's allegations that a Russian warplane violated Turkish airspace.
Non-stop bombing of terrorist positions in Syria continues, with Russian warplanes making 468 sorties in a week, hitting over 1,300 targets, Konashenkov said.
Russian airstrikes hit terrorist infrastructure in the provinces of Aleppo, Damascus, Daraa, Deir ez-Zor, Hama, Homs and Latakia.
Most of the airstrikes carried out by Tu22M3 bombers took place around the city of Deir ez-Zor, which is besieged by jihadist forces.
"An attempt to storm the city has been disrupted," Konashenkov said, specifying that Russian Air Force used both Russia-based strategic long-rage bombers and assault Su-25 aircraft based at Khmeimim airfield in Syria to deliver 23 massive airstrikes against terrorist forces advancing on Deir ez-Zor.
The Syrian Air Force used Russian parachute landing systems to deliver more than 200 tons of humanitarian aid and medical supplies to residents of Deir ez-Zor.
Last week four advanced technology supermaneuverable Sukhoi Su-35S fighter jets assembled in 2015 were deployed to Khmeimim in Latakia and began performing missions along other Russian warplanes operating in Syria, Konashenkov confirmed.
In order to make time-sensitive airstrike delivery quicker, Russian task force in Syria has expanded all types of surveillance in the Middle East.
"This enables us to disclose militant's dispositions and ensure their elimination in practically real-time mode," Konashenkov stressed.
He noted that airstrikes by the Russian Air Force in Syria are only delivered on developed and confirmed targets.
"The coordinates of the militants' installations come to us from the Baghdad information center, Syrian government troops and Syrian opposition units," Konashenkov said.
Over the last week Russian airstrikes in Syria have eliminated dozens of militants, fortified strong areas and artillery positions with at least eight cannons, arms depots, trucks used for transportation of munitions, fuel storage sites and at least 19 pick-up SUVs with machine guns mounted on them.
The Russian Air Force also hit field camps, including one near the town of Kinsabba, which was used for training by fighters from former Soviet states.
You can share this story on social media: