'Wrong' Maidan: Ukraine demands that France's Canal+ TV take hard-hitting documentary off air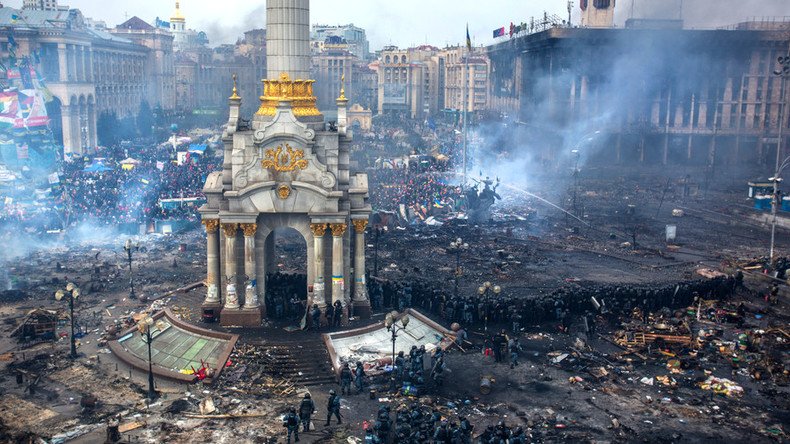 Ukraine's authorities have urged a French broadcaster to take a documentary titled "Masks of Revolution" off the air. They claim the movie misrepresents Maidan events, and have a list of their own suggestions for what needs to be shown.
The Ukrainian Foreign Ministry in their facebook statement went as far as to urge Canal+ TV to overhaul their editorial policy.
The film is scheduled to be shown on February 1.
"Paul Moreira strips the masks of modern-day Ukraine and carries out an investigation on the firing line of the new 'Cold War' between the East and the West," the synopsis posted on the Canal+ website reads.
The film is a special investigation carried out by Paul Moreira, which covers the events in Ukraine over 2014: the far-right radical groups allegedly backed by the US, as well as the deadly violence in the southern Ukrainian town of Odessa.
Ukrainian authorities say that Moreira's Masks of Revolution is "deception" and not an example of "media pluralism," as it provides a "misrepresented view on the situation in Ukraine."
"The version of events in the Ukraine offered in the film is pleasing to the ears of conspiracy theories' supporters and of pro-Russian propagandists. This pamphlet is a documentary made in the worst tradition of misinformation," the statement adds.
The diplomats went on to urge Canal+ "to reconsider the possibility of airing the film on TV."
Also, the embassy gave a list of suggestions about what the French broadcaster should show about 2014 Maidan events, "hoping that one day these movies will be presented on Canal +"
The filmmaker, Paul Moreira, has responded to the accusations, saying his film was "contrary to the commonly accepted narrative" but the reaction still shocked him.
"I knew I was going to meet a strong opposition, would be accused of playing into the hands of Putin, of using elements of propaganda. I didn't expect to meet such denial, bordering on hysteria… I was called a 'terrorist' in the pay of the Russian secret services. [They are] urging that the film be banned.
"Even the Ukrainian ambassador pressured Canal Plus. That is what surprises me the most. For it seems to me that Ukraine must urgently raise the question of these paramilitary groups. They are, as stated in the film, the greatest threat to Ukrainian democracy."
You can share this story on social media: