Recognize anyone? EU launches 'most wanted' fugitives website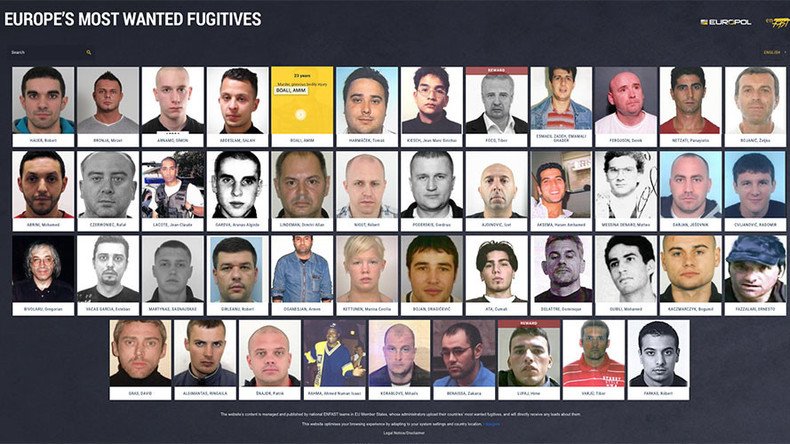 Perhaps envious of America's "most wanted" criminals on the run, the EU launched a new website Friday with their own list.
European law enforcement agencies from 23 of the 28 EU member states have joined together to try and catch the "EU's Most Wanted".
EUMostWanted.eu, a less elegant domain name than MostWanted.eu which is still available, shares information on high-profile internationally-wanted criminals, convicted of - or suspected of committing - serious crimes in Europe.
A total of 45 names and faces, some with financial rewards for capture akin to the day of America's wild west, are listed on the Europol-run website.
They include suspects thought to be involved in the Paris attacks last November 2015, mafia members, a prison escapee, a yoga "guru", and just one woman.
Not on the list are former US leaders Dick Cheney, George W Bush, or Donald Rumsfeld. While there are no outstanding arrest warrants for their alleged war crimes, they are thought to be avoiding some EU countries out of fear of getting pinched Pinochet-style, according to Politifact. Speaking of the former Chilean dictator, Henry Kissinger was summoned in 2001 by a French magistrate for questions about political killings in South America, but the former Secretary of State left the country after the US government intervened.
The EU Most Wanted list doesn't rank the suspects, but here, in no particular order, are ten worth checking out:
The EU has not yet announced plans to produce a TV show about their list, similar to the early Fox hit "America's Most Wanted".
If you do see any of the suspects, report them to the authorities with caution, 'cause you know what they like to do with snitches.
You can share this story on social media: