Thousands march to protest state of emergency in France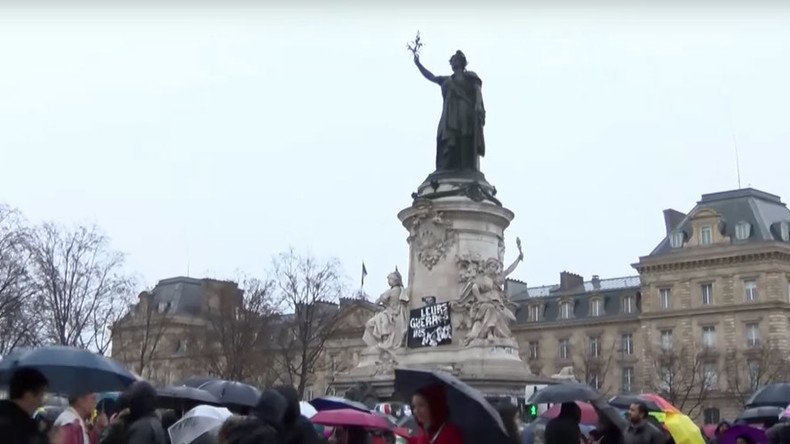 Thousands of people marched in 70 French cities, including Paris, to demand immediate action to stop France's ongoing state of emergency and openly voice outrage over government plans to revoke the French citizenship of dual nationals, many of them Muslims, convicted of terrorism.
Up to 20,000 protesters – many of them members of human rights groups, political parties and trade unions – took part in a peaceful protest in Paris on Saturday, RTL reported the organizers as saying.
According to police estimates, some 5,500 people gathered in the heart of the French capital, between Place de la République and the Palais-Royal, holding banners that read: "State of emergency, police state" and "My France of liberties, where are you?"
"I am here to protest against the state of emergency and against the deprivation of nationality for dual nationals. That's important because we saw a lot of drifts during the state of emergency, some rallies were prohibited, some people were arrested just for protesting peacefully. That shocks me," one activist told RT's Ruptly video agency.

"The state is allowing itself to take absolutely catastrophic decisions for the life and future of liberty of France," Youssef Boussoumah, member of the Indigenes de la Republique party, said.
One woman at the Paris rally, referring to Islamic State, told RTL: "The state of emergency is until when? The end of Daesh? 10 years? Never?"
Another participant, Grenut Louise, a student, told Le Monde:"They impose this state of emergency on us by pure political calculation, the government has no other card to play, except for the security-related one."
"It is cynical to play on our fears to impose this state of permanent exception when we already have laws and means to fight terrorism," she added.
The state of emergency was meant to be used "in the worst moments of our history," another protester, Adrien, and his girlfriend, Valentine, told the French daily, adding that this makes it an additional reason to protest against the measure's renewal.
"Democracy is moving backwards ... at the expense of judges and the rule of law, freedom to demonstrate and [freedom] of expression," Jean-Baptiste Eyrault, of the Right to Housing movement, told AP.
Green party lawmaker Noel Mamere, who also took part in the protest, reportedly noted that the state of emergency eventually gives rise to "a society under surveillance."
Up to 3,000 people took part in a similar protest in Bordeaux, the organizers said; 1,800 in Toulouse (1,300 according to police); 1,000 in Nantes (800 according to police), AFP reported. Demonstrations also reportedly occurred in Strasbourg, Auxerre, Bayonne, Metz, Nancy, Nice, Nimes, Montpellier, Limoges, Grenoble, Saint-Etienne and Montauban.
Meanwhile, according to the latest poll for Atlantico, as many as 79 percent of French people support the prolongation of the state of emergency for three more months.
A report published by two French senators, Alain Fouche and Francois Bonhomme, earlier this month revealed their fears that Islamist jihadists could blend in with the homeless population on the Paris metro to carry out terrorist attacks on the French capital's transport system.
"Terrorists can get in by blending with the homeless people who sleep in the metro at night, then seize the opportunity to carry out any number of attacks," they wrote, France Bleu reported.
On Wednesday, the Cabinet plans to review a measure to prolong the state of emergency, imposed in France after the November 13 Paris attacks in which Islamic State militants killed 130 people and injured 350 more. Last week, a French high court upheld the measure, saying the danger is "still there."
The state of emergency gives more power to police and administrative authorities, allowing house arrest and searches without warrants, along with other measures. The current state of emergency runs until February 26.
READ MORE: 20 arrested in French taxi driver, air traffic controller, teacher protests (PHOTOS, VIDEOS)
Opponents of another controversial plan – to revoke citizenship for dual nationals convicted of terrorism – said the move would only boost racism. "It's a racist measure which tells us that some [people] are more French that others," one protester told RTL.
Many dual nationals are Muslims, who say they have been recently made the scapegoats for IS attacks.
Earlier this week, French Justice Minister Christiane Taubira, an outspoken critic of government plans to strip French nationality from dual-citizens convicted of terrorism, resigned. Shortly after her resignation was announced, Taubira wrote on Twitter: "Sometimes you remain in place to resist. Sometimes resisting means you go. Out of loyalty to oneself, to us. For the last word in ethics and law."
Parfois résister c'est rester, parfois résister c'est partir. Par fidélité à soi, à nous. Pour le dernier mot à l'éthique et au droit.
ChT

— Christiane Taubira (@ChTaubira) 27 января 2016
She told iTele news channel in early January that she was strongly against plans to revoke the French citizenship of dual nationals, saying it's "not desirable."
You can share this story on social media: