GMO mosquitoes could be cause of Zika outbreak, critics say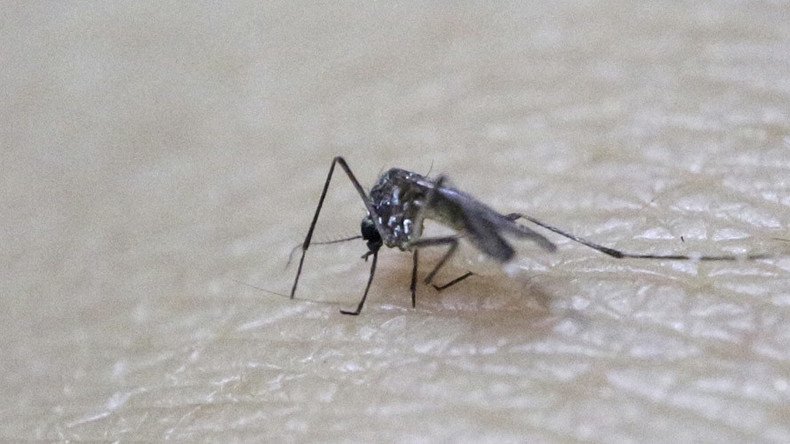 The latest contagious viral outbreak freaking out the globe, particularly women worried about birth defects, may have been caused by the presence of genetically-modified mosquitoes (GMMs) in Brazil, contend critics of the superbugs.
With international health experts convening in Geneva to discuss possible cures for the Zika virus, questions are being raised as to whether they are actually to blame.
In mid-2012, British biotech company Oxitec released the super bugs with the aim of reducing the overall mosquito population that spreads dengue fever, the Zika virus, and chikungunya in northeast Brazil.
At the time, concerns were raised about the release of GMMs without further studies into possible side effects.
"It's a very experimental approach which has not yet been successful and may cause more harm than good," Dr Helen Wallace, director of GeneWatch, told the Guardian in 2012.
The first cases of Zika in the Americas were reported last May after spending decades working its way from Africa through Asia.
Up to 1.5 million people now thought affected by the virus, which Oxitec's critics note is the same country where the GMMs were released - Brazil.
Since the outbreak, there have been over 4,000 cases of babies born with microcephaly in Brazil, although various others causes can also be attributed to the rise.
The Aedes aegypti mosquito sub-species that carries both the Zika virus and dengue is the very type Oxitec targeted with its GMMs.
"Zika Outbreak Epicenter in Same Area Where GM Mosquitoes Were Released in 2015" What a coincidence 🤔

— k. (@kathydiim) January 30, 2016
The aim of Oxitec's GM program was to release only male Aedes mosquitoes into the wild and they would in turn produce offspring with their virus carrying female counterparts.
This offspring would then die off before breeding age due to the GM coding in their genes, as long as the antibiotic tetracycline wasn't present, which would override the GM DNA.
Sounds like the plot of a Hollywood blockbuster.
There is already a known survival rate of up to five percent in these GMMs regardless of the presence of tetracycline.
This antibiotic, which is often used to treat teenage acne, can be found in nature too, showing up in soil, surface water, and food, with some research stating that the GMM survival rate could potentially increase to 15 percent.
READ MORE: Genetically engineered mosquitoes battle Zika virus in Brazil
Oxitec critics also suggest that in the absence of studies into the potential knock-on effects of this in these mutated mosquitoes, it's possible they could in fact thrive in the wild with unknown mutations taking place in GMMs, which in turn could worsen the spread the Zika virus.
"Mosquitoes are food for lots of animals. We would still want to see studies of when birds and bats and amphibians eat these genetically modified animals," Jaydee Hanson, a senior policy analyst at the US-based Center for Food Safety, told Bloomberg News. "They're introducing into the ecosystem some genetic constructs that have never been there before."
Hanson also raised the possibility that other mosquito species could still carry the Zika virus: "It doesn't solve the problem."
Calls for further studies into GMMs prior to their release by Oxitec to answer such questions went unanswered, however.
While this Jurassic Park-type scenario could have been accidental, the recent UK TV series "Utopia" suggests it could be a deliberate plan to reduce the global population.
You can share this story on social media: