Sea Shepherd slams Greenpeace for seal harvest support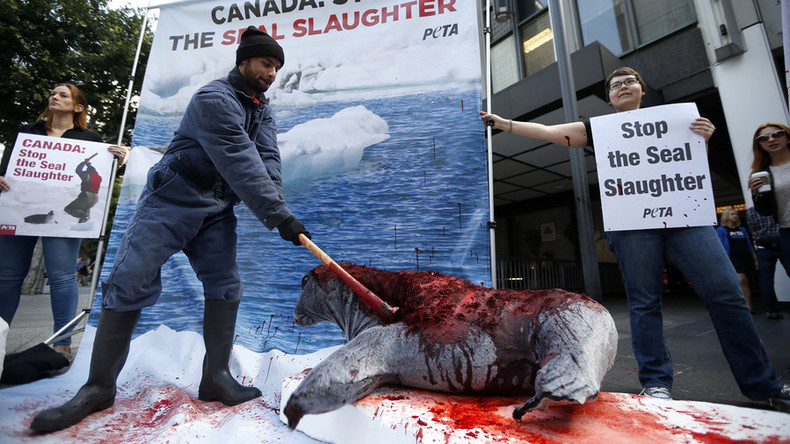 A founding member of Greenpeace has criticized the organization over its decision to support indigenous sealing.
Paul Watson said the organization is "now playing into the hands of the fur industry and the Canadian interest in marketing seal fur to China".
In an open letter posted on Watson's Facebook page, he criticized Greenpeace Arctic director Jon Burgwald's claim that indigenous sealing was "sustainable," saying that the organization is "giving comfort to the seal butchers in supporting one of the most brutal and bloody mass massacres of wildlife on the planet."
Speaking to MSNBC last year, Burgwald said that Greenpeace's campaigning against the seal fur industry in the 1970s and 1980s was aimed at commercial sealing in Canada, but had a negative impact on indigenous sealing.
Burgwald said Greenpeace supports indigenous sealing today as it is sustainable and uses all of the animal's parts for food and clothing.
Currently, only seal products harvested by indigenous peoples are allowed to be sold in the EU.
Canada announced Thursday a CA$5.7 million five-year investment in developing the indigenous sealing industry.
The Canadian Department of Fisheries and Oceans claim the harvest of seals is sustainable, with a seal population now six times greater than that of 1970.
Watson was part of a group of protesters that evolved into Greenpeace in the early 70s.
Greenpeace have distanced themselves from Watson since he was voted off the Board of Directors in 1977 after he condemned Greenpeace's interpretation of nonviolence.
"I find it abhorrent to see a whale being slaughtered and do nothing but bear witness," Watson said in the documentary "Pirate for the Sea".
In the letter, Watson claims Greenpeace's change of attitude on seals could spread to other activities: "How long before Greenpeace endorses the illegal whaling operations by Japan, which they still raise funds for campaigns that they never actually do?"
Greenpeace deny claims that Paul was a founder of the organization on their website, despite being part of the original Sierra Club anti-nuclear protest group that evolved into the organization in 1971.
After leaving the organization, Watson founded the Sea Shepherd Conservation Society (SSCS), taking to the seas to use "direct-action tactics to investigate, document, and take action when necessary to expose and confront illegal activities on the high seas."
They were the subject of the Animal Planet series "Whale Wars".
The organization has come under fire for its tactics, including colliding with a Japanese whaling ship despite an injunction to stay 500 yards away.
SSCS agreed to pay US$2.55 million to two Japanese whaling organizations after a legal settlement.
A former supporter, businessman Ady Gil, is also bringing a lawsuit against Watson and the SSCS after he claims Watson ordered the destruction of his high-speed boat to make it look like the work of a Japanese whaling ship.
You can share this story on social media: