France to recognize Palestinian statehood if peace efforts fail – FM Fabius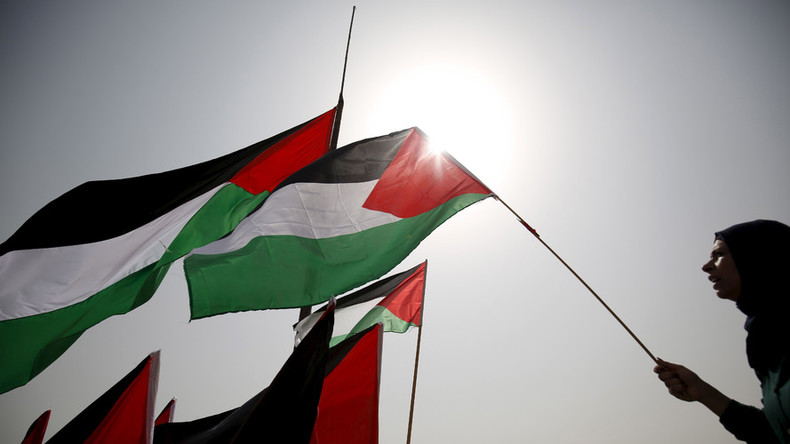 Paris will recognize the Palestinian state if France fails to break a deadlock between the Israelis and Palestinians in the coming weeks, Foreign Minister Laurent Fabius has announced.
"If this attempt to achieve a negotiated solution reaches a dead end, we will take responsibility and recognize the Palestinian state," Fabius said Friday.
As a permanent member of the UN Security Council, France has a duty to maintain efforts to find a two-state solution between Israel and Palestine, he explained during a media-conference in Paris.
"France will engage in the coming weeks in the preparation of an international conference bringing together the parties and their main partners, American, European, Arab, notably to preserve and make happen the solution of two states," the French FM is cited as saying by Reuters.
Fabius expressed hope that the international peace summit will be attended by Israelis and Palestinians, who haven't been talking since 2014, as well as other key international players, including the US, EU states and Arab nations.
"Unfortunately, [Israeli] settlement construction continues. We must not let the two-state solution unravel," he said.
An unnamed Israeli official has already told a journalist for the Haaretz newspaper that the French peace initiative will be rejected, as recognizing it would only encourage Palestinians to avoid direct negotiations with Tel-Aviv.
Israeli official reject new French peace initiative & claims threat to recognize Palestine only encourages Palestinians not to negotiate

— Barak Ravid (@BarakRavid) January 29, 2016
Less than a month ago, Palestinian Foreign Minister Riyad al-Maliki visited Paris to discuss the possibility of proposing a UN Security Council resolution declaring that the illegal Israeli settlements in the West bank are an obstacle to a peaceful solution of the conflict.
In October of 2014, Sweden became the first EU nation to recognize Palestinian statehood, followed shortly by the UK. The first Palestinian embassy opened in Stockholm in January 2015.
Last September, the Palestinian flag was hoisted at UN headquarters for the first time as a symbolic gesture in the territory's quest for statehood.
READ MORE: Palestinian flag to fly at UN HQ after 119 nations vote 'yes'
You can share this story on social media: