Cat & mouse game: Artist creates mini armor for furry friends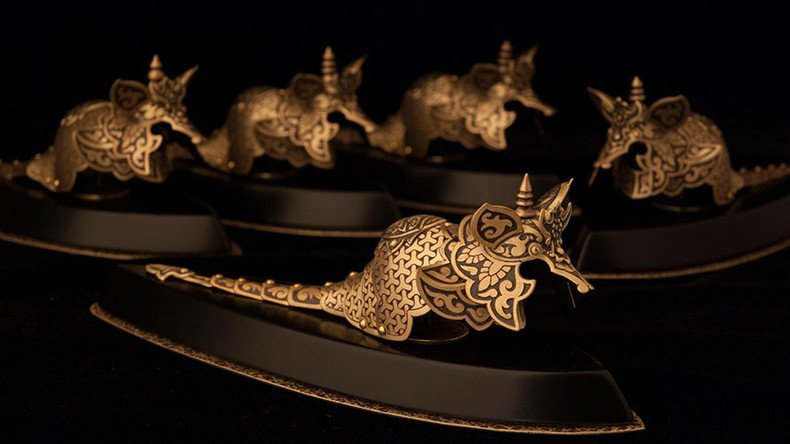 The eternal struggle between cats and mice has a new protective - and decorative - layer.
Canadian artist Jeff de Boer produces suits of armor for felines and their murine adversaries.
Inspired by the armor worn by Ancient Roman soldiers, Persian warriors, and Japanese samurai, the Calgary-based artist first began producing his quirky masterpieces in the 1980s.
"I think the mouse becomes a symbol for the underdog," de Boer told the Canadian public broadcaster CBC. "The suit of armor is a transformation vehicle only a hero would wear."
Using metals such as steel, silver, bronze, nickel, and copper to create the intricately designed pieces, de Boer can spend anything from 40 hours to 400 hours forging each of his pieces.
De Boer has sold hundreds of his creations to art lovers around the world, but they don't come cheap with his recent "Tudor mice" going for CAN$1,800 (US$1,285) per piece and some of his older suits earning CAN$25,000 (US$17,853) each.
Sadly, for those hoping to organize an epic mouse vs cat battle, it's best not to use the armor for actual combat (especially at those prices!), although de Boer did try it once for a photoshoot.
"We were photographing a set and we had a mouse for the day we had rented, if you can imagine, and the mouse climbed into one of the suits," he said.
Surprisingly, cats seem to like the cosplay despite their lack of enthusiasm for everything else.
"They love it," de Boer says. "When I come home with a piece of armor every day, the cats all come running up."
You can share this story on social media: