From camels to car crevices: Saudi Arabia captures not-so-cunning customs evaders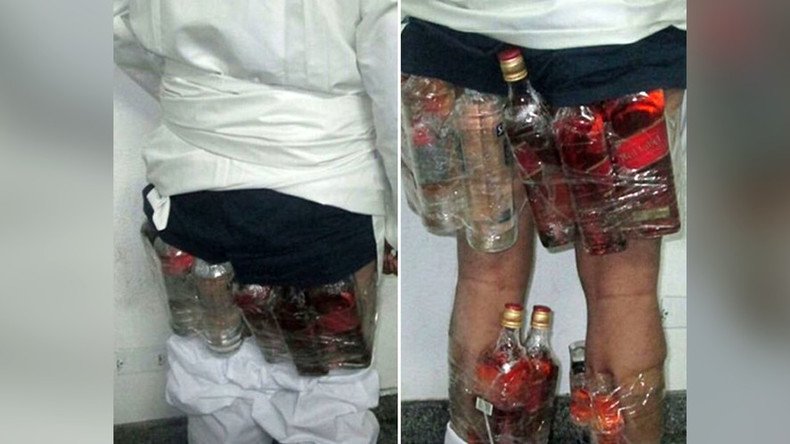 Customs officials in Saudi Arabia have been tweeting some of the various illegal items people have attempted to smuggle into the kingdom in bizarre ‒ and surely, uncomfortable ‒ ways.
One of the most popular items uncovered by officials is alcohol ‒ which is completely banned in Saudi Arabia ‒ with some smugglers being a little more subtle than others in how they hide their liquor.
You certainly couldn't describe this woman's efforts as being in any way 'subtle': She simply shoved five bottles into her pockets. Even customs officials seemed disappointed at her lack of ingenuity, describing it as a "miserable attempt" at smuggling.
She's not the only one to try and hide alcohol on their body: this man strapped his secret stash of whiskey around his legs.
Others have hidden bottles in the crevices of their car in the hope that the normal-looking exterior is enough to mask what lies beneath ‒ such as 380 bottles of whiskey.
One drug that is frequently uncovered by Saudi officials is the amphetamine Captagon, which is understood to be widely used by Islamic State (IS, formerly ISIS/ISIL) militants, allowing them to fight for days with little rest.
In the first six days of January alone, almost 535,000 Captagon pills were found during a number of different searches by Saudi customs officers: 414,000 pills were found in truck tires; 100,000 were concealed in wooden pallets; and another 10,000 were found in the lining of a man's underwear.
Officials along the King Fahd Causeway between Saudi Arabia and Bahrain this month discovered people smugglers attempting to traffic a woman by covering her in a blanket in the backseat of a car.
In September 2015, 2,470 "pet birds" of various breeds, shapes and sizes were discovered hidden in the floor of four cars that were travelling along the King Fahd Causeway.
Attempting to sneak 48,000 cans of Heineken into the country, one smuggler wrapped each can in the Pepsi logo. Unfortunately for him, this tactic didn't really work.
Smugglers have even used camels to try and get their contraband into the country, with Saudi officials discovering a camel with 115,000 narcotic pills on its back in June 2015.
You can share this story on social media: