'I'll chop you up'! NYPD searches for machete attacker amid string of 'random' slashings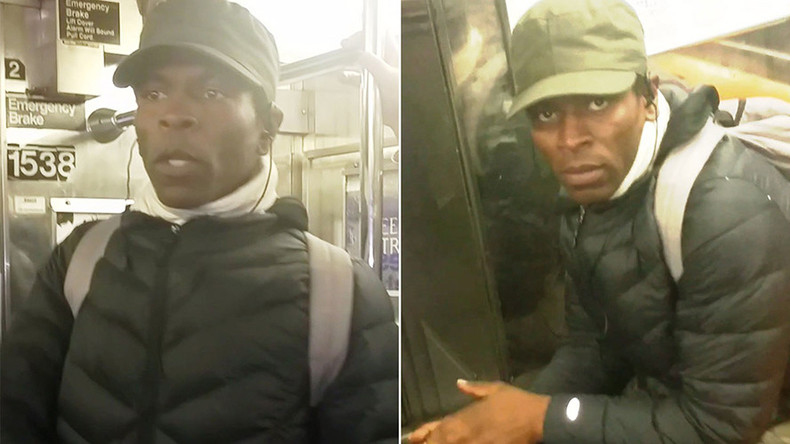 A series of slashings has rocked New York City, with police searching for the latest machete-wielding suspect. The man reportedly shouted "I will chop you up on this train" before slicing his victim. It was the third bloody slashing to occur this week.
When 29-year-old Natalie Lewis boarded the crowded Brooklyn train on Tuesday night, she was immediately taunted by the violent suspect, the New York Post reported.
Wasting no time after targeting Lewis, he shouted "I will chop you up on this train," adding that he would "find your ass at home!"
A terrified Lewis snapped photos of the suspect as he shouted at her.
"The police aren't here now. You're trying to get help from the crowd. They can't help you! I can just chop you and they can't do nothing!" the man told Lewis, according to local media's sources.
At that point, the man reached into his bag and pulled out a two-foot blade. He tried to strike Lewis with the weapon, but missed. Before fleeing the train, the man sliced Lewis' hand, leaving a two-inch wound. However, she did not need stitches, according to police.
The suspect is pictured in the media as a middle-aged African-American man. Police say he is approximately 5' 9" (175cm) and about 175lb (79kg).
Two other slash attacks took place earlier this week.
At roughly the same time on Tuesday night, a knife-wielding attacker approached a 32-year-old man at a subway station in East Harlem, cutting him. The victim, identified as Christopher Santiago, needed stitches at Harlem Hospital.
Meanwhile, 21-year-old Damon Knowles was arrested Tuesday night for slashing the face of an elderly woman on a D train during morning rush hour in the East Village.
The victim, identified as 71-year-old Carmen Rivera, was sitting down when the man across form her got up and slashed her face, leaving a four-inch wound.
"She wants justice done and she wants to talk to [the suspect] face-to-face to see why he did that," Rivera's sister Amelia said.
It comes just two weeks after police arrested 26-year-old Matthew Jacobs for allegedly stabbing a man in the buttocks when the man was boarding a train in Queens with his daughter. Jacobs was arrested on January 12.
On Wednesday, a grand jury indicted Kari Bazemore on assault charged for the December 31 slashing of a woman in the Bronx. Bazemore is also charged with slashing a woman in Chelsea on January 6.
Also on Wednesday, 28-year-old Francis Salud was indicted for allegedly slashing a man in the face on January 16 in the East Village.
According to police, stabbings and slashings in the city are up 14.85 percent, with 286 this year compared to 249 over the same period in 2015.
You can share this story on social media: