Monster mommy: Woman brutally beats 6yo in bank card rage, flings several feet away (GRAPHIC VIDEO)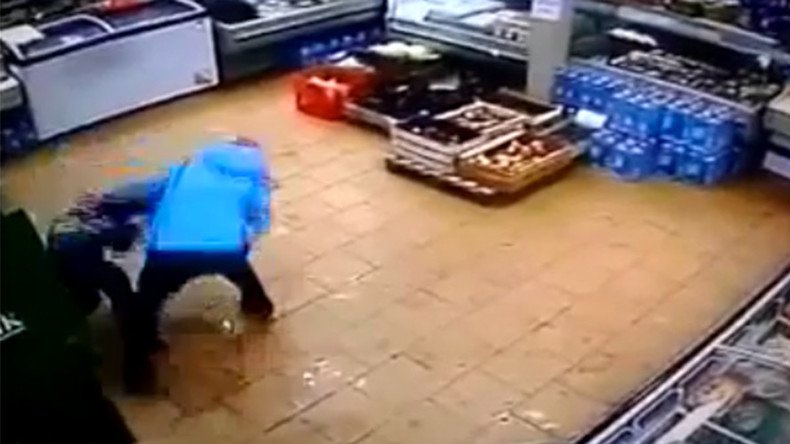 A Russian woman has been caught on camera brutally beating her little son after checking her bank account. The gut-wrenching video emerged online and sparked an enormous scandal.
The shocking incident took place in the town of Labytnangi, in the northern Urals, in November 2015, but the video was only released on social networks only Wednesday.
The footage captures a woman, later identified by the local media as 35-year-old Zhanna Voytishek, arriving at a shop, reportedly to withdraw money from a cash machine.
However, after supposedly not finding the expected sum of money, the furious mother directed her anger towards the child. She clipped the boy on the head, throwing him to the ground apparently with all her might. Then she delivered a kick for good measure.
When other customers tried to intervene, the woman grabbed her son and left the shop. Outside footage then shows her picking him by the midriff of his coat and flinging him several feet into the snow in the direction of the road. She then turns and moves away without even looking back at her child. A passerby rushes to attend to the little boy.
READ MORE: Russian granny knocked off feet with one blow by customer at supermarket
The video's emergence on the VKontakte (In Contact) social network prompted Russian law enforcement services to announce an investigation into the case.
Later Russian media reported that the fit of rage was because the child's welfare payment – 2,000 rubles ($25) - hadn't yet been deposited into the bank account. According to LifeNews, the woman has a psychiatric disorder and has not let her son attend kindergarten.
However, Russian Children's Rights Ombudsman Pavel Astakhov said the boy won't be taken away by the social services as he has a father who lives separately, according to local media reports.
"The boy is from a complete family. He has a father with whom we have no complaints, so he hasn't been taken from the family," said Astakhov. He added that the mother is currently undergoing medical examination.
You can share this story on social media: