Answering the call: Robots to staff Japanese cell phone store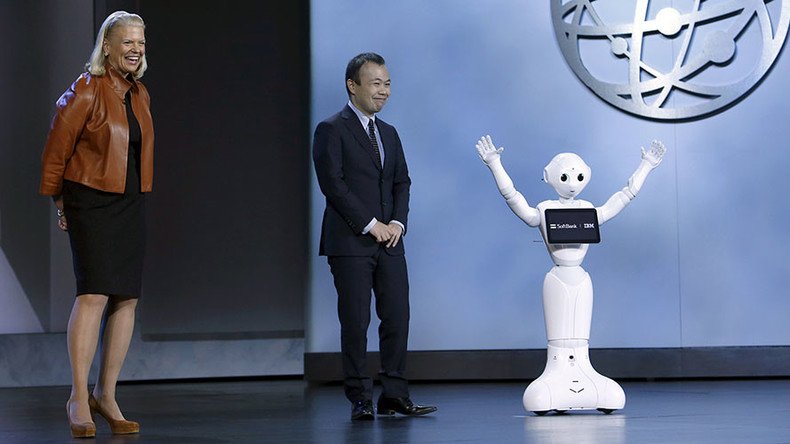 A Japanese company has so much faith in their humanoid robots that they are going to unleash them on the customers at one of their cell phone stores as sales assistants.
SoftBank Corp unveiled its Pepper robot in 2014, marketing it as a robot that can sense emotions.
Now they're keen to see how Pepper will react in a business environment and are putting it to the test at the end of March, when up to six Peppers will work in Tokyo's upscale Omotesando shopping district for one week.
The robots will answer queries about cell phone options and try to complete sales transaction. Humans will be on hand, however, to check people's IDs when signing contracts.
So is this the beginning of robots replacing humans in the workplace?
"I don't know how this will turn out, but it should be a quite interesting experiment," SoftBank CEO Ken Miyauchi said during a two-day exhibition called Pepper World, according to The Japan Times.
Thirty-seven banks and financial institutions, including Nissan Motor Corp., which has the robot in about 100 of its outlets, are using the robot to interact with customers, according to Miyauchi.
SoftBank is now partnering with more than 200 firms to develop business apps for the Pepper platform.
"I think this year will be the beginning of the smartrobot era for corporate (customers)," the CEO said, referring to devices that are connected to the Internet and can use cloud-based artificial intelligence.
This is not the first time robots have entered the workforce in Japan.
Last July, the Henn-na Hotel, located in the Huis Ten Bosch amusement park, opened with 10 robotic dinosaurs among its staff.
You can share this story on social media: