Mass brawl in Dutch refugee shelter, more than 40 residents involved – police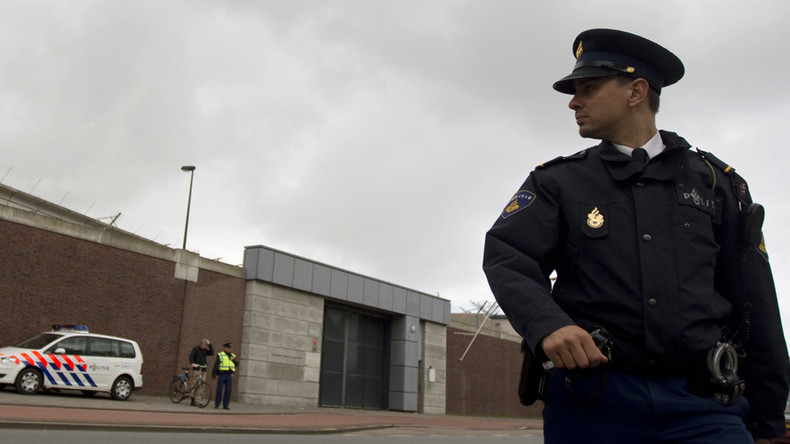 More than 40 asylum seekers reportedly became entangled in a fight at a refugee center in the Dutch city of Rosmalen, according to police.
Twelve police cars were summoned to the shelter on Tuesday night, along with a police van for detainees, an ambulance and a fire engine, local media report. The firemen came to the site as the alarm went off and several fire extinguishers were emptied. However, after the firefighters had examined the building, they left.
"Two men from Iran started fighting with each other. No idea why or what," one eyewitness said, the local Brabants Dagdlad newspaper reported. "Their compatriots tried to appease them. When that failed, the police and an ambulance were alerted."
Another eyewitness described the incident as a "childish game of fighting," adding that it didn`t result in any blood being spilled.
Earlier reports on the incident cited the number of those involved in a brawl at 100, but a police spokesman later confirmed only about 40 people took an active part in the brawl, while others just stood watching, Brabants Dagdlad reported.
The temporary refugee center currently houses nearly 500 asylum seekers.
On Tuesday, four refugees sustained injuries in a shooting and stabbing attack during a fight in the Dunkirk refugee camp in the northern France. Around 40 shots were fired, according to local police estimates. Hundreds of police officers were deployed to the scene to prevent further escalation. Conflicting reports emerged concerning the reason behind the brawl. Some said it was a gang fight, based on religious grounds, while others said it was between two gangs of people-smugglers from Lebanon and Afghanistan, who got involved in an armed conflict.
On Monday, Alexandra Mezher, a 22-year-old social worker at a refugee center in the Swedish city of Mölndal, was stabbed to death in a brawl involving underage refugees. She sustained severe injuries and was admitted to the hospital, where she died. The attacker, who it is alleged was a 15-year-old boy, was apprehended by police, and six or seven other people were also detained for questioning. Chiméne Mezher, 42, the mother of the victim, blamed the death of her daughter on the inability of the authorities to deal with the refugee crisis. "It is the Swedish politicians' fault that [Alexandra] is dead," she said, the Daily Mail reported.
After the incident, Swedish police requested that they be allowed to hire up to 4,100 new employees by 2020 to tackle the crisis.
Last Wednesday, 10 police officers left a refugee center in the Swedish city of Västerås after they were forced out of the building by a group of its occupants. The police wanted to relocate a 10-year-old refugee boy, following reports of him being repeatedly raped at the shelter.
You can share this story on social media: