China warns George Soros: Don't go to 'war' against our currency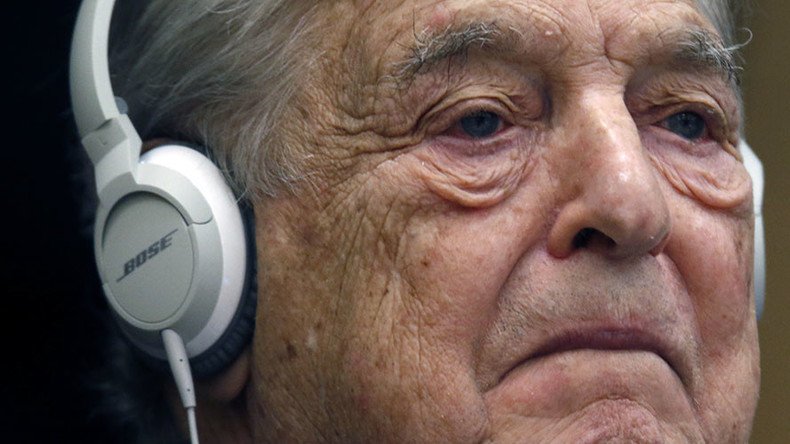 China's official newspaper warned billionaire investor George Soros not to bet against the Yuan in a front-page opinion piece, as China tries to boost confidence in its home currency, also known as the renminbi, which has dropped 5 percent since August.
"Soros's war on the renminbi and the Hong Kong dollar cannot possibly succeed – about this there can be no doubt," said the article titled "Declaring war on China's currency? Ha ha," published by People's Daily, the official newspaper of the Chinese Communist Party.
The opinion piece is an attempt to convince investors that the renminbi is still a safe choice despite the currency's 5.7 percent tumble since August. Meanwhile, China's central bank has been dipping into its foreign exchange reserves and spending hundreds of billions of dollars trying to halt the currency's slide.
READ MORE: Prosecutors ban Soros Foundation as 'threat to Russian national security'
China zeroed in on Soros after he told Bloomberg TV last week that he is betting against the S&P 500, Asian currencies, and resource-linked economies. Soros also said he is projecting a hard landing for China's economy, highlighting it as one of the "root causes" of the risk-off market sentiment.
"The Chinese left it too long to address the changeover in the growth model that they have to adapt from – investment and export-led to domestic-led. So a hard landing is practically unavoidable," he said on the sidelines of the World Economic Forum in Davos, Switzerland. "I'm not expecting it, I'm observing it."
China's economic growth has been slowing, hitting 6.8 percent in the fourth quarter of 2015, which led to an expansion of only 6.9 percent on an annual basis, the weakest results in 25 years.
Other Chinese publications also stepped up their criticism of speculation tactics on China's currency.
"Some people believe that the Chinese capital market is experiencing a major crisis, of which they try to take advantage with speculative actions and even vicious shorting activities," Xinhua said in a commentary published on Saturday.
China has been fighting against speculation, which could triggers chaos. "As a result, reckless speculation and vicious shorting will face higher trading costs and possibly severe legal consequences," Xinhua added.
READ MORE: George Soros makes hush-hush trip to Kiev
Multibillionaire Soros, who is now 85, has gained a reputation as a currency speculator. Back in 1992 he bet that the pound would lose value, pushing the UK government to withdraw its efforts to artificially buoy its currency in the European Exchange Rate Mechanism. Soros successfully made $1 billion on the bet.
He also speculated against the Thailand baht ahead of the Asian financial crisis in 1997. Some Asian leaders openly blamed massive currency trading, and Soros in particular, for the debacle, with Malaysian Prime Minister Mahathir bin Mohamad even branding him a "moron" after the Malaysian ringgit's collapse.
You can share this story on social media: