Thai 'child angel' dolls get seats in airliner, one seized by police for drug smuggling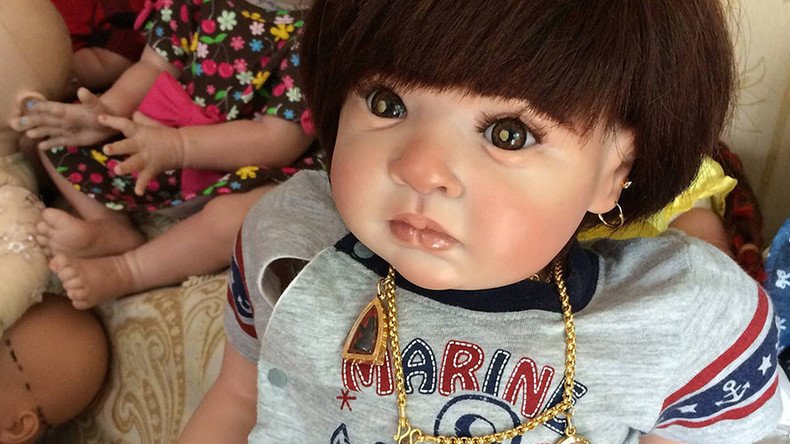 "Child angels" are "supernatural" Thai dolls that are treated like humans: They go to restaurants, fly on planes, attend Buddhist ceremonies – and from this week they can add getting arrested to their repertoire of human deeds.
A craze for these lifelike dolls, which are believed to bring good fortune, has been sweeping through Thailand and this week certainly has been an eventful one for the "child angels" – a direct translation of "luuk thep" as they're called in Thailand.

Police discovered 200 methamphetamine pills inside a "child angel" in the carpark area of Chiang Mai International Airport on Tuesday, according to Thai PBS.

The seizure came after police received a tipoff that drugs were going to be smuggled on board a flight.
One hundred more "child angels" were confiscated on Tuesday, when three vendors were arrested in Bangkok for allegedly failing to pay import taxes on the dolls.

"Mostly they imported [the dolls] from China," Colonel Kriangsak Kanrayawattanajaroen, deputy commander of the Economic Crime Suppression Division, told AFP. He added that the vendors had avoided paying more than 100,000 baht ($2,750).
The dolls, which rose to popularity after celebrities claimed they had brought them professional success, can retail for over $2000 and come in many forms.

Among those extolling the dolls is Bookko Thannatchayapan, a radio disc jockey, who credits his luuk thep, "Wansai," for his success.
Thailand's Prime Minister, Prayut Chan-ocha, has recently warned Thai citizens to spend their money wisely and not purchase the dolls if they could not afford them, adding that people should not get carried away with the current trend, Thai PBS reported.

Thai Smile airways decided to cash in on the craze this week, announcing the addition of ticketed seats and meals for the dolls to accommodate owners who did not want to put them in their carry-on luggage.

Meanwhile a state-owned bus operator, Transport Co., is charging half-priced tickets for the dolls, who will "receive full service, including food and drink," a PR representative told AFP.

The factory-manufactured dolls are contemporary versions of an old Thai tradition to carry talismans that are believed to be inhabited by the soul of a child.

Thailand is a majority Buddhist country with traditionally strong superstitions – a factor, along with the instability of the country, which is believed to be contributing to the craze.

"From the perspective of Thais this is a very uncertain time," anthropologist Visisya Pinthongvijayakul told AFP. "I think this is a practice that reflects an unstable and critical moment in Thai society," she said.
You can share this story on social media: