'Powerful pyrotechnics': Explosion rocks central Stockholm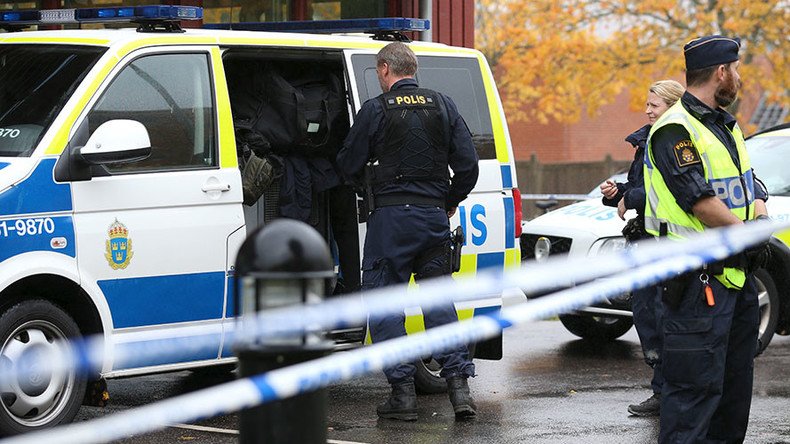 Swedish police are investigating a blast that went off near a shopping mall in central Stockholm on Tuesday evening. No injuries have been reported, but the explosion was powerful enough to shatter car windows.
Police rushed to the Mood shopping center in central Stockholm around 17:30 GMT following reports of a blast there.
"We have a damaged facade and a ruptured car window but we are not aware of any injuries to people. Obviously something has exploded but it doesn't appear to be major damage," said police spokeswoman Carina Skagerlind.
Police later said in an online statement that the cause of the blast was a "powerful pyrotechnic object."
Police had said earlier that they hadn't yet determined the nature of or reason for the explosion. "There is reason to believe that crimes have been committed, but what it is that has gone off I do not know," Swedish tabloid Aftonbladet quoted Sven-Erik Olsson, a duty officer for Stockholm police, as saying.
Police say they are inspecting a car in a tunnel near the mall, suspecting a bomb has been planted in it, local media reported.
Police have launched an investigation into the incident. The area around the mall and the tunnel has been cordoned off.
Peter Larsson, 33, who works opposite the shopping center, told the Expressen newspaper that he heard a "very loud bang."
"The windows started shaking and I jumped up from my chair at once. There was panic on the streets, people ran from all directions," he said.
READ MORE: Sweden's 3rd largest city hit by multiple blasts, police plead for help to tackle violence spike
"The whole mall was shaking. We saw how people were running, so we also rushed out," eyewitness Helin Aldur, 23, told the paper.
Some witnesses described seeing a "glow.""I saw a white light. The window panes shook strongly. Now there is broken glass in the street and police everywhere," one witness told Aftonbladet.
A live video stream from the scene shows police inspecting the area with bomb-sniffing dogs and looking under parked cars.
Sweden's security police raised the threat level for the country to its second-highest since the Paris attacks of November 13 that killed 130 people and injured hundreds.
You can share this story on social media: