Straya Day or Invasion Day? Australians celebrate – and commemorate – national holiday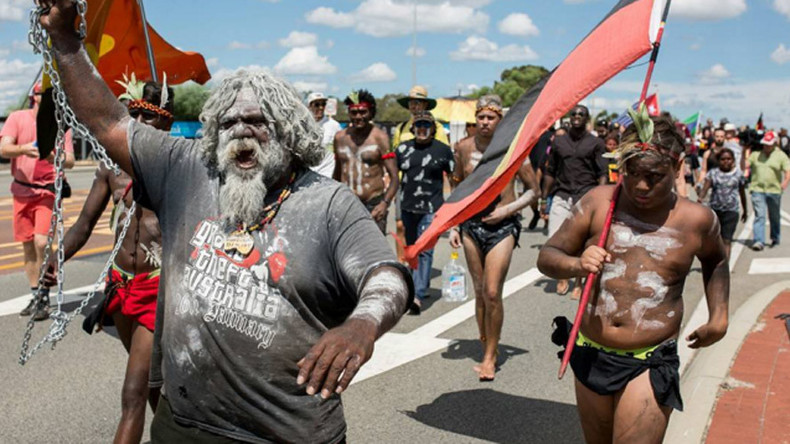 January 26 is known to many Down Under as 'Australia Day' - an occasion when proud Aussies can be seen draped in flags and raising a brewski to their much-loved country.
However, the date doesn't hold the same celebratory associations for all Australians.
Members of the aboriginal population are increasingly pushing for the annual holiday to be changed to 'Invasion Day', as a reminder to the majority of the population that this land was stolen from their ancestors.
Millions of people celebrate Australia Day as the occasion when British ships first arrived to New South Wales and raised their flag on Sydney cove 228 years ago.
Aboriginals and Torres Strait Islanders commemorate the day as Invasion Day - the day a war began; the day their people were taken by the British:
"The acts of aggression committed against Aboriginal people constitute nothing short of genocide, yet many Australians chooses to remain wilfully ignorant,"writes Aussie journalist, Pekeri Ruska.
On the day of the invasion in 1788, the 700,000-strong Aboriginal community made up 100 percent of Australia's population, but by 1900 that number had dropped to around 93,000. As of 2015, Australia's Aboriginal population stands at 3 percent.
Invasion Day rallies have taken place all across the country as Australians spread awareness about their nation's past.
Groups gathered to remember the "day of mourning", carrying the Aboriginal flag and donning traditional Aboriginal dress.
Mainstream media have been accused of downplaying Invasion Day, with some reporting the protests as being attended by just "several hundred people".
Some non-Aboriginal Aussies take the stance of "sorry about what our ancestors did, but can we move on now?"
However, each year as cities turn red, white and blue in preparation for the national holiday, Aboriginals feel the betrayal all over again.
Google caused controversy by representing Invasion Day in their 'daily doodle'. Australian journalist, Miranda Devine, called the drawing "disrespectful", while many praised the search engine giant for going against the Australia Day grain.
You can share this story on social media: