Vertical limit: Ski champ cheats death in 'terrifying' Alaskan wipeout (VIDEO)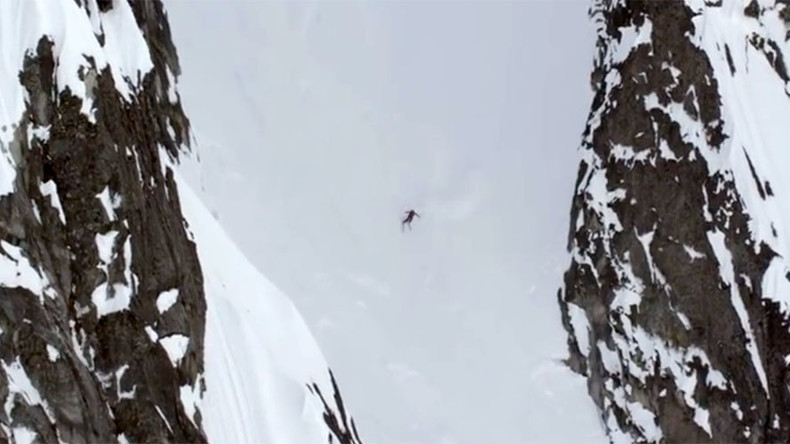 Pro freeskier Angel Collinson was lucky to escape with her life after she fell down an almost vertical slope in Alaska from the equivalent height of a New York skyscraper.
In September, Collinson claimed the Best Female Freeride Performance at the International Freeskiing Film Festival for her run in the movie 'Paradise Waits'.
But the Utah-born athlete - who completed the "rowdiest women's skiing segment" in the winter powder flick - was put through the mill when she attempted a line down a 1,000ft Neacola Range piste.
Footage of the icy wipeout shows Collinson tentatively lining up her route.
Suddenly, she loses her footing and plummets down the North American mountain face at breakneck speed.
Amazingly, the hardy professional survived with barely a scratch - and even offered to go back up the peak to collect her dropped belongings. Gnarly.
"The fall was absolutely terrifying - without question. You have no idea what you are going to tumble over and there is nothing you can do but hang on," Collinson said of the incident.
"This was definitely a learning experience for me. Maybe 99 times out of 100, you can ski through that terrain, but when it does go wrong, it's more high-consequence."
"I felt like I was pretty well within my abilities and then it just got really, really sh*tty down at the bottom."
"As you can see I lost control… I got really lucky, jammed two fingers and that was it - lost everything out of my [back]pack.
"But other than that, I was totally fine."
Collinson was speaking about her ordeal at Teton Gravity Research's Safety Week.
You can share this story on social media: