Cover-up! Italian museum conceals nude statues to avoid offending Iranian leader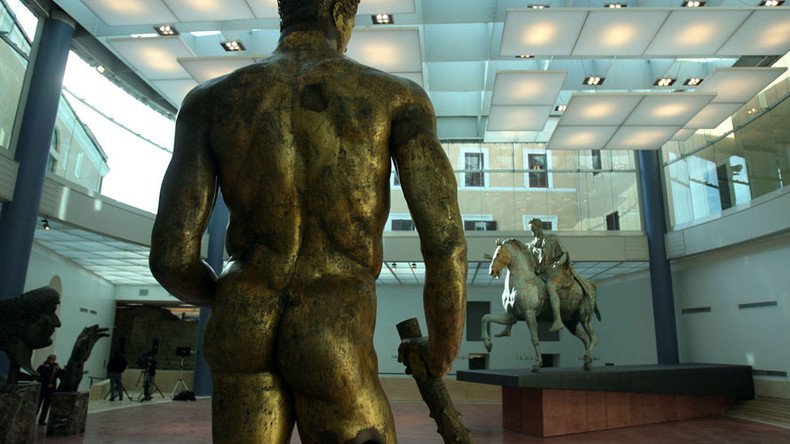 All the nudity at a major museum in Rome has been hidden from sight during a visit by the Iranian president to spare the Italian government's VIP guest, who came to seal multi-billion dollar agreements, any kind of discomfort.
It was Italian PM Matteo Renzi's order to hide all the nude sculptures on display at Capitoline Museum, so as not to offend Iranian President Hassan Rouhani, local media reported.
Rouhani arrived in Rome on Monday to sign contracts, summing up to €17 billion ($18.4 billion).
READ MORE: Iran President Rouhani to visit France, Italy in 1st Europe trip since sanctions lifted

The major cover-up resulted in most of the statues demurely fenced around with solid white panels.
The show of respect for the Islamic Republic did not end there. No wine or pork was served during Rouhani and Renzi's official dinner.
Many Italians responded ironically over the covering of the sculptures. Some responded by sharing images of naked statues across various social media platforms under the hashtag #statuenude.
It's not the first time Italy has covered up artworks to avoid misunderstandings with Muslim guests. In October, when the crown prince of Abu Dhabi, Mohammed bin Zayed bin Sultan Al Nahyan, visited Florence, the "Gazing Ball" statue by American sculptor Jeff Koons was covered up to avoid the sheikh's blushes.
France was less cooperative during Rouhani's historic visit to Paris last November. The Iranian president and his French counterpart, Francois Hollande, proved unable to come to a mutual understanding on the menu. Hollande's office reportedly declined to provide a halal and alcohol-free dinner for the Iranian delegation, citing "republican traditions." Rouhani is said to have declined to attend the dinner as a result.
You can share this story on social media: