Libya's parliament votes to reject UN-backed unity govt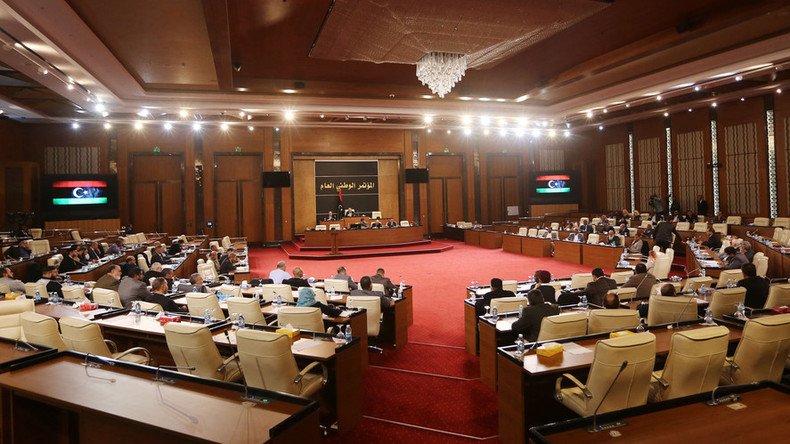 Libya's internationally recognized parliament in Tobruk has voted to reject a UN-backed initiative to form a unity government with a Tripoli based militia alliance. The proposal was aimed at resolving the political deadlock in the crisis-ridden country.
The notion of forming a unity government between the warring sides was rejected by the Tobruk-based parliament by a majority vote, with 89 of the 104 MPs present voting against forming the new government that was proposed by the UN last Tuesday.
"We voted against endorsing the government and ask... to be presented with another government," parliamentarian Ali al-Gaydi said, as quoted by AFP.
According to the lawmakers, the 32-member unity government was rejected because its cabinet was too large.
"They did not use the correct criteria in choosing ministers and the size of the government, especially now that the economy is collapsing in Libya," lawmaker Omar Tantoush told Reuters.
Last Tuesday, Libya's UNSC-backed Presidential Council – a body formed under the terms of the Libyan Political Agreement signed in December in Morocco – announced a new government.
The EU foreign policy chief, Federica Mogherini, praised the step, saying that only the new unity government would be able "to end political divisions, defeat terrorism, and address the numerous security, humanitarian and economic challenges the country faces."
Libya has been struggling to regain political stability since the ouster of Muammar Gaddafi in 2011. Since 2014, the country has been engulfed in civil war between two rival administrations – the New General National Congress based in Tripoli and the Council of Deputies based in the eastern city of Tobruk.
The UN-proposed peace deal sees the two administrations combining to form a unity government in order to eliminate the political vacuum that has helped Islamic State militants (IS, formerly ISIS/ISIL) and other terrorist groups gain a foothold in the region. In January, Mogherini pledged to contribute €100 million ($108 million) to battling IS as soon as a unity government comes to power.
In a second vote on Monday, the majority of lawmakers agreed to push a UN-mediated agreement forward that sets out a political transition for Libya. However, the MP's refused to agree to the UN-accord article under which the power over military appointments would be transferred to the new government, fearing that this would lead to Tobruk-based army chief and former Gaddafi ally General Khalifa Haftar losing his post.
You can share this story on social media: