French farmers block roads, burn tires protesting low prices (VIDEO, PHOTOS)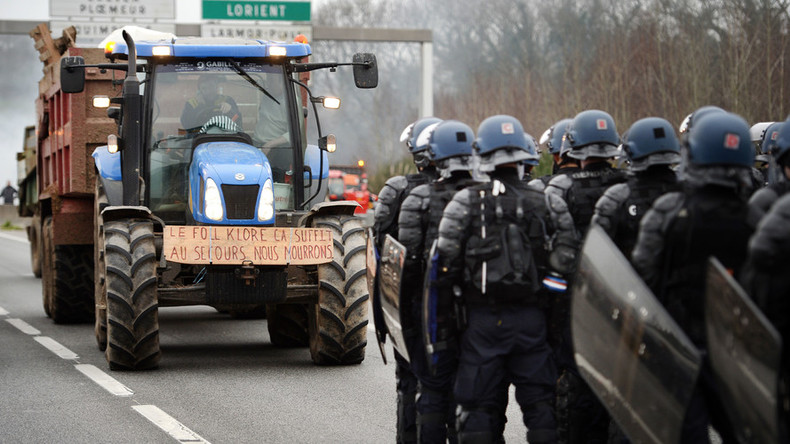 Farmers protesting across western France have laid siege to a number of major roads connecting cities in the French province of Brittany to express their anger at the prices of dairy and meat products.
A part of the N165 national motorway between the town of Gestel and the commune of Hennebont was brought to a standstill by striking French farmers who are demanding a meeting with Prime Minister Manuel Valls and Jean-Yves Le Drian, president of the Brittany province and Minister of Defense, France Info reported.
The highway was blocked with trucks and tires after a weekend break at around 8 a.m. local time, forcing the motorists to look for alternative routes.
"This is the only way to be heard and to show disarray in our country," said Frank Guéhennec, the president of the Morhiban agricultural union, adding that the financial situation of most farmers is close to "critical," according to France Info.
The N237 road passing around the city of La Rochelle was blocked by nearly 60 farmers, local reports said. The N11, which gives direct access to the city, as well as the bypass were also blocked, which urged authorities to temporarily reopen the Vieux Port so that people could get to work.
French farmers have been staging protests for several months. They are demanding that the prices of milk, beef, pork and some vegetables should be increased because their proceeds from sale don't cover the cost of production.
In July, the French government announced a €600 million ($650 million) support package for the agricultural sector; however, farmers believe more should be done to drag them out of financial crisis.
You can share this story on social media: