'Support our city!' Calais residents rally for peaceful life after port seizure by immigrants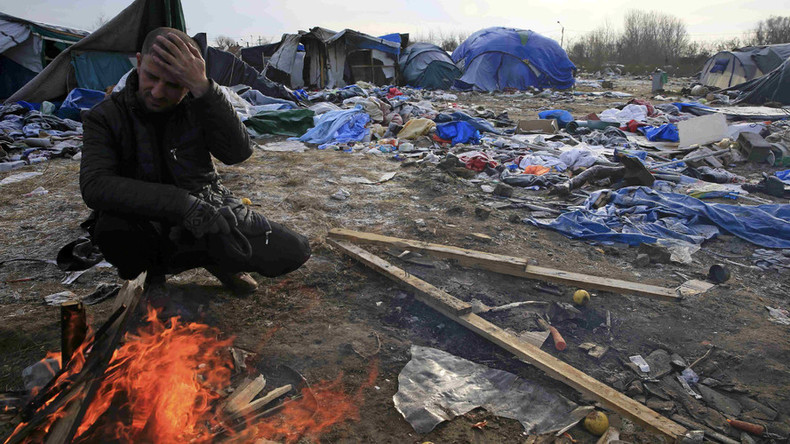 A day after migrants from the Calais 'Jungle' camp briefly overran the French port in a bid to make it to the UK, some 2,000 local residents and merchants staged a rally in defense of their city and their right to a peaceful life.
Locals who feel threatened by thousands of refugees living in makeshift camps around the port city say that they have "had enough" refugee-related violence and vandalism which have become a common occurrence for some 70,000 residents.
United under a large banner reading "my port is beautiful, my city is beautiful – support our city, our port, our businesses and our jobs," they marched through the city center urging the authorities to do more to protect their once-peaceful existence.
According to the local prefecture, more than 2,000 people were present at the rally that called on local merchants and businesses from the port city to "support jobs." The march was organized a day after a pro-refugee rally ended up in the brief migrant takeover of the Calais port.
Attempts by migrants at crossing the Channel from France into England have continued unabated, causing delays and disruption to train services and truck routes. During the rally, which also gathered some 2,000 people comprising activists and migrants alike, several hundred protesters broke into the port, with some 50 of them boarding a UK-bound ferry.
The port was forced to halt its duties as police struggled to restore order, eventually arresting several dozen intruders. The situation in the city became so heated that one local resident was forced to defend his home with a hunting rifle after being harassed by migrants during Saturday's pro-refugee march.
Speaking at the rally on Sunday, Jean-Marc Puissesseau, president of Calais port council, said that "this situation cannot continue," as the local community lives and works in a state of "extreme tension."
"I am convinced that we need to remove this jungle, everything must be done so that we can remove the camp of migrants that is too close to the port," he added.
Mayor of Calais and MP Natacha Bouchart, stressed that Sunday's rally was not an anti-immigrant demonstration, but rather an image-creating opportunity to show the beauty of the city, its residence, and its businesses.
It is an opportunity of stakeholders "to give a positive image" of Calais to the world in a "festive event."
At the same time, she stressed that, "for several months we have been requesting the dismantling of everything that does not concern humanitarian aid," referencing an offer from the government which proposed permanent shelters made out 125 converted shipping containers in an area adjacent to the camp.
Until the camp is dismantled the people of Calais "are in a state of extreme tension," she explained.
In a statement by head of the Ministry of Home Affairs, Bernard Cazeneuve stressed on Sunday that "the state stands alongside of Calais and the municipality."
Paris he said has allocated €50 million ($54mn) to the city and dispatched 17 units of security forces, including mobile forces, including riot police and squadrons of gendarmes, supported by territorial units and border police, "to ensure the security of the Calais town and its inhabitants."
Commenting on Saturday's incident Cazeneuve said that 35 people were arrested, including 26 migrants and nine activists. Fifteen people were taken into custody, he added.
You can share this story on social media: